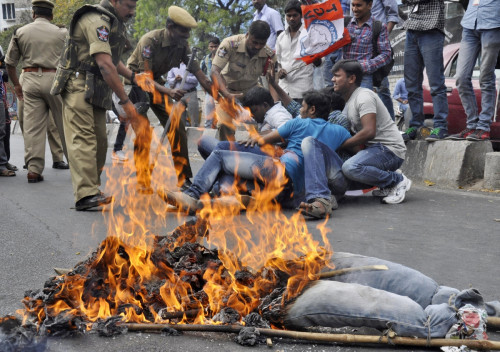 Indian MPs caused mayhem in the lower house of parliament, with one using pepper spray and another brandishing a knife, in scuffles over the controversial splitting of the southern state of Andhra Pradesh.
The long-simmering issue of Andhra Pradesh's state-hood boiled over in the Lok Sabha parliament when the government tried to table a bill for the creation of Telangana state.
Parliamentarians opposed to the bill protested loudly and tried to prevent Home Minister Sushilkumar Shinde from introducing the bill.
Lagadapati Rajagopal, a billionaire MP from the Telugu Desam Party (TDP), charged at the speaker's dais. In the resulting scuffle Rajagopal sprayed a can of pepper spray.
People in the House, including parliamentarians, staff and journalists, started coughing and were left teary eyed, the Hindustan Times reported, adding that many darted out to escape from the fumes.
As the commotion worsened, another TDP MP, Venugopal Reddy, allegedly took a knife out and smashed the Speaker's microphone.
"I was told there was gas, knives, other materials as well," Parliamentary Affairs Minister Kamal Nath was quoted by NDTV as saying.
"The circumstances and incidents which took place in the House are a big blot on our parliamentary democracy," the minister said.
As angry MPs went on the rampage, glasses were broken and computers flung out, prompting the Speaker to call in the services of the marshalls and suspend as many as 18 members from the House.
A doctor provided medical assistance to the parliamentarians and some MPs were taken to the Ram Manohar Lohia Hospital in an ambulance, reports said.
Despite stiff opposition, India's federal government decided to table the Andhra Pradesh reorganisation bill, which facilitates the carving out of a new state, Telangana.
IT hub Hyderabad, the capital of Andhra Pradesh, falls inside the geographical limits of the proposed new state, and this has made the issue highly complex.
The new state will have a population of 35 million and will be formed by carving out 10 of the 23 districts in Andhra Pradesh.
MPs not frisked
The commotion in parliament took place even as the government adopted special security measures, reports said. Visitors were barred from the gallery and fire extinguishers and blankets were kept ready as one MP had threatened to set himself on fire if the government proceeded with the controversial bill.
However, an NDTV report pointed out that MPs were not frisked when they entered parliament, suggesting they could bring in materials such as pepper spray and weapons.
"What happened is disgraceful, unprecedented, unforgivable," Jaswant Singh, a senior parliamentarian from the opposition, said.
Prime Minister Manmohan Singh was not in the house when the government introduced the bill.