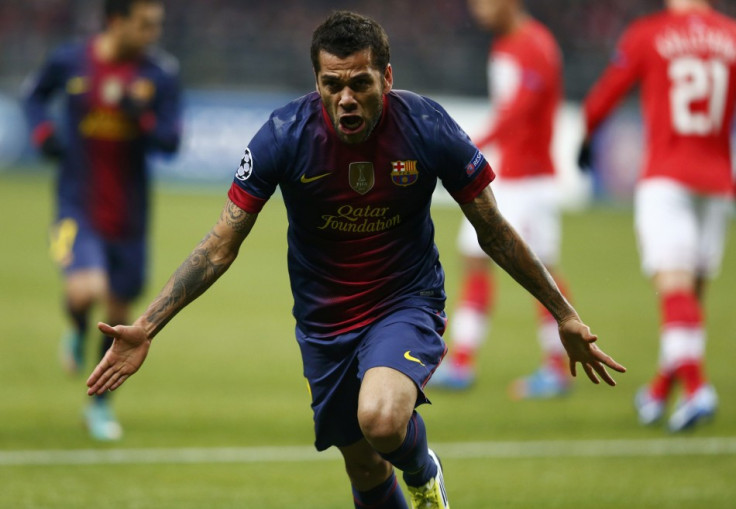 Manchester United and Liverpool have been handed a massive boost in signing Dani Alves after the right-back confirmed that he will leave Barcelona at the end of the season.
The 31-year-old has less than six months left on his contract and has constantly been linked with a move to the Premier League, with Old Trafford and Anfield as his potential destinations.
The Brazil international can hold talks with an overseas club and sign a pre-contract in order to make a free transfer later in the summer. Alves ruled out the possibility of continuing with his current employers after he admitted that Barcelona have not handed him a new deal.
"I'm not interested in negotiating a move now. First I will finish my contract and then we will see what happens," Alves explained, as reported by the Mirror.
"The problem of leaving bare the right-back slot is not mine. it is Barcelona's. They have not offered me a renewal."
Alves' latest comments will put both United and Liverpool, who are in search of a right-back in the January transfer market, on alert. Any possibility of the South American leaving the Nou Camp in the mid-season looks unlikely as he will see through his Barcelona contract.
United have Rafael as the only recognised right-back in the squad, while Liverpool are set to allow Glen Johnson leave Anfield for nothing at the end of the season.
Barcelona defender has already expressed his desire to play in the Premier League next season. He said: "This will be my last season at Barça. Next year I'm moving to England. I want to play in the birthplace of football."
A move for Alves in the summer will give either United and Liverpool more options defensively. It should be seen if the Red Devils or the Merseyside club will be able to assure his regular playing time.
Meanwhile, United are also rumoured to be interested in signing Everton defender Seamus Coleman and are set to make a £20m move in January.