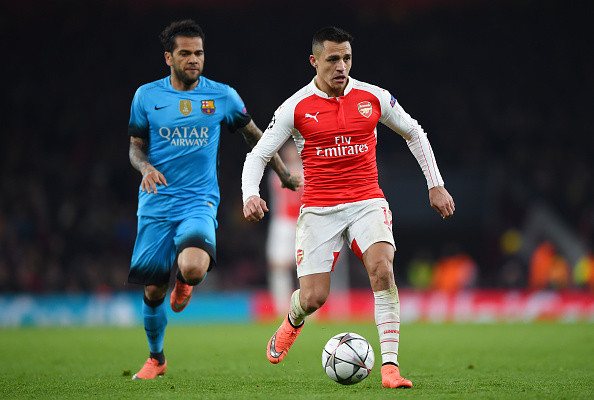 The Dani Alves transfer saga is set for a new chapter after his agent denied that the Brazilian international is set to leave Barcelona for Juventus. The news will come as a massive relief for Arsenal, following reports that the Catalans would try to lure the Gunners' right-back Hector Bellerin to return to the Nou Camp should Alves leave.
The 33-year-old Alves was responsible for one of the transfer sagas of last summer after he called a press conference to announce he had "one foot, half a body and almost a head" out of Barca. He instead signed a new two year-deal with the club. But earlier this week he sparked new speculation about his future after refusing to confirm that he will play for La Liga champions next season.
On Wednesday (25 May), Sport website reported that Alves had agreed a three-year-deal with Juventus during the current transfer window. The report said everything was ironed out and the Brazilian could move on a free transfer, in accordance with a break clause in last summer's contract.
Both Sport and Mundo Deportivo claimed that Barcelona have earmarked Arsenal starlet Hector Bellerin to fill the expected gap. The Spaniard, named the best right-back in the Premier League this campaign, was a product of Barcelona's famous La Masia youth academy before moving to the Emirates Stadium, and had already been linked with a return to La Liga giants in recent months in a repeat of the Cesc Fabregas saga.
But Alves's agent and ex-wife, Dinorah Santana, has insisted the Brazil international has not agreed anything with Juventus and has no plans to leave the Nou Camp.
Santana, in conversation with Mundo Deportivo, admitted that Alves has received offers from both the Serie A giants and Galatasaray, but refused to consider them as he intends to remain at Barcelona until the end of his current contract in the summer of 2017, despite the break clause.
That would be a major boost for Arsenal, as Barcelona would be unlikely to sign Bellerin if Alves stays, having plenty of cover in his position, including Aleix Vidal, Douglas Pereira and the versatile Sergi Roberto. But few would rule out further twists, given previous Alves transfer sagas.
Meanwhile, Juventus chief Beppe Marotta failed to clarify the Serie A giants' interest in both Alves and his compatriot Javier Mascherano. "This is a group that's difficult to improve but we always want to be more competitive," he told Sky Sport Italia, as quoted by Football Italia. "Dani Alves? We're talking about an important player, but he isn't our property. We'll see what we can do. Mascherano? These are media situations, but we don't want to sell anyone from our defence unless [Martin] Caceres leaves on a free transfer."