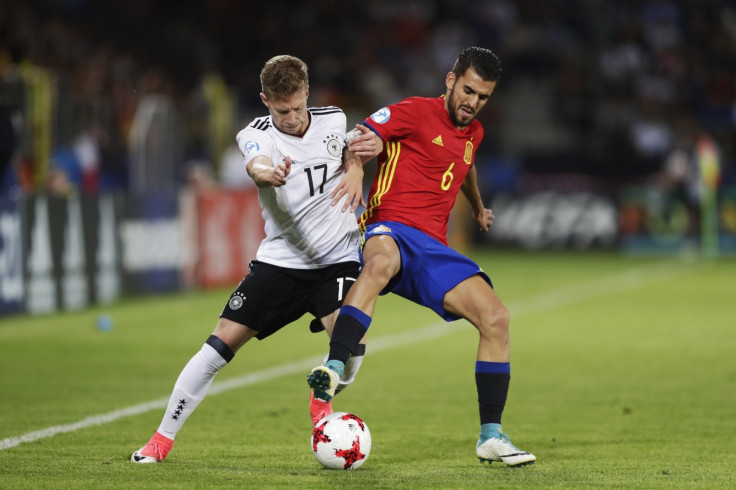 Dani Ceballos claims that he did not hesitate about moving to Real Madrid despite also being pursued by Barcelona and Atletico Madrid. The Spanish Under-21 midfielder addressed the media on Thursday (20 July) for the first time since completing his €16.5m (£14.7m, $19m) transfer from Real Betis to the Santiago Bernabeu.
The 20-year-old had been linked with a move to the Champions League winners since the summer of 2014.
However, Barcelona, Atletico and Juventus also reportedly joined the race to secure his services this summer after he proved to be the main sensation of the Under-21 European Championship, where he was named the best player of the tournament as Spain finished as runners-up to Germany.
It was said during the Euros that Real Madrid were ready to meet Ceballos' €15m release clause and win the race before sending him back on loan to Betis to complete his development.
But Barcelona tried to hijack Los Blancos' plans by offering the player an immediate place in their first team as Ernesto Valverde desperately looks to bolster his midfield.
Betis sports vice-chairman Lorenzo Serra Ferrer himself confirmed that the Catalans did make an enquiry to beat Real Madrid to his signature.
However, Real Madrid quickly reacted by matching Barcelona's promise and offering Ceballos a place in Zinedine Zidane's squad ahead of the upcoming campaign.
Los Blancos consequently parted ways with James Rodriguez in order to make space for the Spaniard, who joined from Betis in a deal worth €1.5m more than his clause.
Ceballos has now claimed that moving to Real Madrid was always his priority and that he did not even think about other offers.
Asked specifically about how he reacted when Barcelona tried to convince him to snub Real Madrid and move to the Nou Camp, he said: "I dealt with pressure with the help of my family. I knew I wanted to play for Real Madrid and that was my aim. I am at the best club in the world and proud to wear this jersey".
Ceballos added: "There was no doubt in my mind. This is where I wanted to be. The president contacted me and we got talking. There was nowhere other than Real Madrid for me. I know how good this side is and I will have to work hard in training to force my way into the team.
"I'd like to thank the president for depositing faith in me and when I knew the club were interested in signing me there was no way I could say no. It has always been a dream of mine to play for Madrid and I'd like to extend my thanks to my family for their continued support. I'm here to work hard and make history with this club."
Furthermore, the midfielder admitted that the presence of Under-21 national teammate Marco Asensio at the Bernabeu also played an important part in his decision.
"We've known each other for a while through the national side and he said that if I get the opportunity to play for Real Madrid I should grab it as it is the greatest club of all time. His support as a teammate and friend was a key factor in me coming here," the former Betis star said.