Daniel Radcliffe Set for Now You See Me 2 as Michael Caine's Son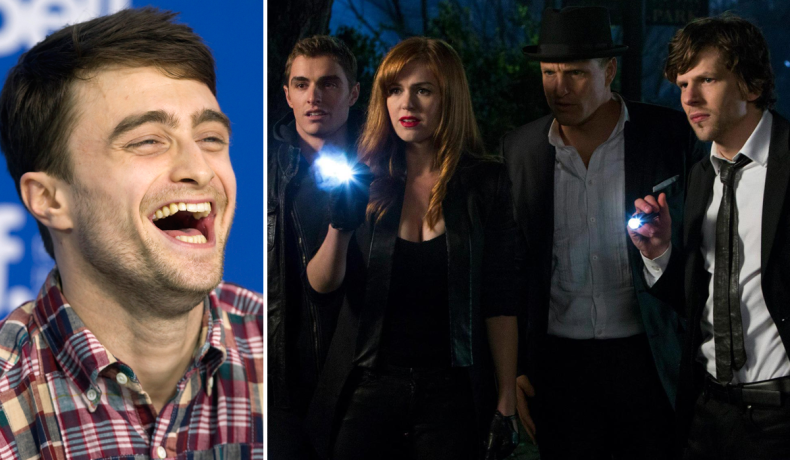 Harry Potter star Daniel Radcliffe appears to be joining the sequel to Now You See Me, according to actor Michael Caine.
Caine, speaking to HeyUGuys, said that his filming is set to begin in London in December and dropped the news that Radcliffe would be playing the son of his character Arthur Tressler.
"There's a sequel to Now You See Me and we're shooting in London," said the veteran actor. "I shoot in December, the whole of December in London, and my son is Harry Potter. I thought it'd be funny, me and Daniel Radcliffe as father and son."
Let's ignore the fact that Caine is old enough to play his grandfather, let alone his father.
In 2013 Now You See Me proved a surprise success, raking in over $350m (£216m) worldwide. The film told the story of a group of highly-skilled illusionists using their shows to conceal heists against corrupt businesses before showering their audience in the money they steal.
The sequel will see Jesse Eisenberg, Isla Fisher, Mark Ruffalo, Woody Harrelson, Morgan Freeman and Dave Franco returning to their roles. Step Up and GI Joe: Retaliation's Jon M Chu will direct the feature from the script of Pete Chiarelli and Ed Solomon.
For Radcliffe the film will mark his first big budget summer blockbuster since the Harry Potter series ended in 2011. Since then he has enjoyed success in biopic drama Kill Your Darlings and horror The Woman In Black.
Radcliffe's next film is Alexandre Aja's satanic horror Horns, set for release at the end of the month in time for Halloween.
Now You See Me 2 will be released on 24 June 2016.