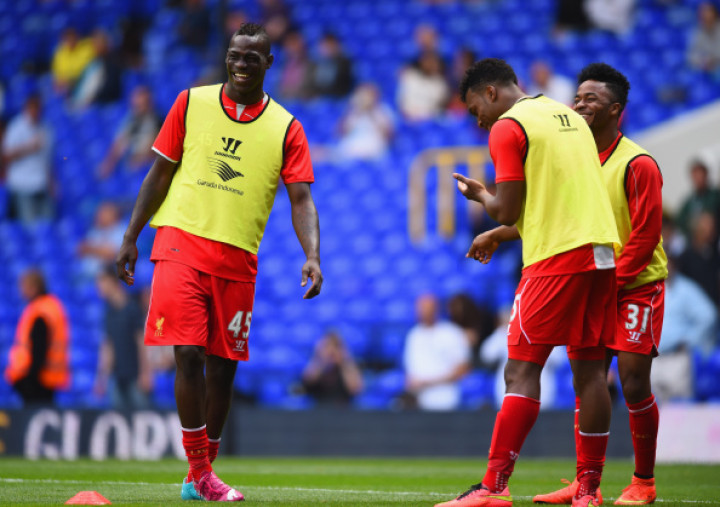 Liverpool striker Daniel Sturridge is hoping to replicate his last season's partnership with Luis Suarez, with new Reds signing Mario Balotelli.
The England international striker is currently on the sidelines recovering from a calf injury, but is relishing the prospect of lining up alongside the former Manchester City striker. Sturridge has revealed that he has a good relationship with Balotelli on and off the field and is sure that they can score a lot of goals playing together.
"We get on well off the field and in the changing rooms. We're always laughing and joking," Sturridge told talkSPORT.
"Once I get back fit I'm hoping we can strike up a partnership. Last season with Luis [Suarez] we had a great relationship up front and scored a lot of goals. Hopefully this season it will be the same."
Sturridge feels that even if two strikers are not friends off the field, they can still go on to have a fruitful partnership on it.
"It's not hugely important to be friends to have a great football relationship with somebody, and if you're not friends you can still have a great partnership, but you can also be friends and have a great partnership," the Three Lions striker remarked.
The Reds striker has also come out and defended Balotelli after the Italian international came in for harsh criticism from all quarters due to his poor performances for Liverpool.
The former AC Milan striker has yet to score for Liverpool in the Premier League, but Sturridge is confident that the goals will return and believes that every player needs time to settle down as it is difficult to hit the ground running when surrounded by new teammates.
"Mario has been under the microscope. That will always be the case when you play for a big club. You are going to have a lot of eyes on you,"
"Mario's a great guy, and he's misunderstood sometimes. A lot of people are harsh on him. I get on really with him though. I have nothing but good words to say about him," the former Chelsea striker said.
"He's working hard on the training field. People have told me he's working tirelessly to play the way we play."
"It's difficult moving to a new club and having new team-mates, it doesn't [always] just click straight away. Everybody is helping him and he's playing well. Sometimes you don't get the breaks in terms of scoring goals. Every striker goes through times when they don't score," Sturridge concluded.