Liverpool legend Michael Owen has claimed Brendan Rodgers' biggest mistake was to try and replace Luis Suarez with "four £20m players".
Following the Uruguay international's move to Barcelona, the Anfield manager paid £4m to Southampton for veteran Rickie Lambert and £16m to AC Milan for former Manchester City striker Mario Balotelli, while he also signed Belgium player Divock Origi, although the deal stipulated he had to send him back to Lille on a one-year loan deal.
Furthermore, Italian international Fabio Borini returned to Merseyside after a successful loan spell at Sunderland.
While Daniel Sturridge has been out of action for most of this season due to picking up a number of injuries, Balotelli, Lambert and Borini are yet to score a Premier League goal after nine games.
Owen believes this is the key reason behind Liverpool's sluggish start to the campaign, comparing the situation at Anfield with the way Tottenham replaced Gareth Bale last summer by spending around £100m on Erik Lamela, Roberto Soldado, Christian Eriksen, Vlad Chiriches, Etienne Capoue, Nacer Chadli and Paulinho.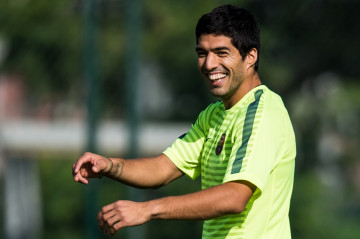 "The mistake Liverpool seem to have made – rather like Daniel Levy at Spurs when he sold Gareth Bale – is thinking four £20m players could replace Suárez," Owen wrote at The Telegraph.
"Suárez is one of the greatest players to ever wear a Liverpool shirt, so with the greatest of respect to Balotelli and Rickie Lambert it is an unenviable position to go to Anfield with memories of the Uruguayan's performances still fresh in the memory."
Owen is specially surprised by the signing of Italian striker, suggesting it was obvious Balotelli did not have what it took to replace Suarez, who scored 31 goals last season.
"I feel sorry for Mario Balotelli but he is not the elite striker Liverpool need – and had in Luis Suárez – and Brendan Rodgers must already be thinking about replacing him," he said.
"You know you're never going to get another Suárez – that is impossible – but it is important to have someone who at least endeavours to make the same runs and works just as hard.
"With Balotelli, Liverpool not only took a risk in terms of whether the player would deliver on the pitch – and not get into any trouble off it – but also gambled that he would actually be able to make the transition tactically from what he is used to."
After securing just 14 points from nine games, Owen believes his former club could struggle to secure a final position in the Premier League's top four.
He said: "At the start of the season I predicted Liverpool would finish in the top four. I probably let my heart rule my head a little because it looks like this season, it will be tougher for them to qualify for the Champions League."