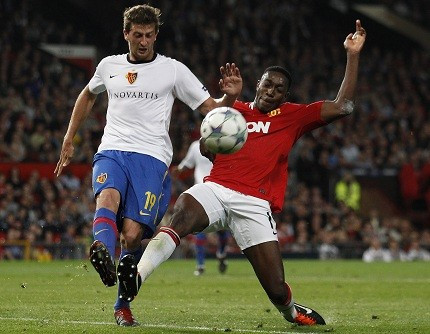 Danny Welbeck has stated that the two goals he scored against Basel in the Champions League last night mean nothing because they could only manage a draw.
The brace put United ahead before Basel's sensational fight back, forcing a last-gasp goal from Ashley Young to secure a draw.
The home-grown centre forward made history, becoming the first player to rise through the ranks at Old Trafford and score since Brian Kidd in the 1960s. He is also the only Manchester born striker to score two goals in a game in Europe since Dennis Viollet in the 1957.
"It was a bitter-sweet moment for me. To get two Champions League goals was great and I was buzzing about that, but we didn't get the win we should have done,"
"I am never happy if we are not winning. It is good to get goals but it is quite depressing if we don't win. My goals don't mean much now."
"I just ended up disappointed because it is a team game and it is all about winning."
Welbeck told the press today of his deflation at his team only securing one point, despite a fantastic performance from the 20-year-old.
He paid credit to Basel, saying: "Credit to Basel, they did well but we made life hard for ourselves and you can't afford to do that in the Champions League. We need to get back on the training pitch and put things right. We have to learn not to be careless and to carry on playing the game the way we started because we threw it away.
"It's not like Manchester United to give three goals away at Old Trafford like that so you could say it's a wake-up call."
The striker spent most of last season on loan at Sunderland and missed the entire Champions League campaign, and is now confident his career is on track: "I think I'm a better person really because I went to Sunderland and got more minutes in the Premier League," Welbeck said.
"It was really good for my career and I'm just really pleased at the moment."