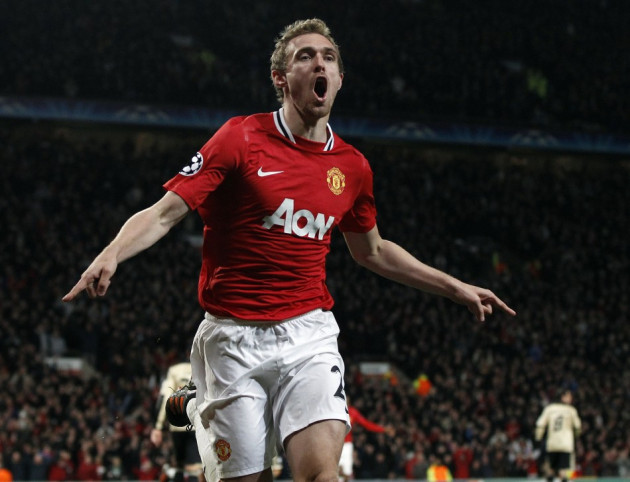 Manchester United midfielder Darren Fletcher continued his return to full-fitness by playing a full 90 minutes in the club's Under-21 defeat to Stoke City.
The Scot hasn't featured in the United first team since December 2012 after being diagnosed with ulcerative colitis 12 months previous and has suffered a number of delays in his return.
After returning to training with United, albeit away from the main first team group, Fletcher did feature in the Under-21 draw with Fulham last month, playing 67 minutes.
But his first 90 minutes in any competition for United for close to a year indicates a significant improvement in the 26 year old's fitness and raises hopes regarding a first-team return in the New Year.
Premier League Under-21 rules state three over-age players can be fielded in regular season matches, and United staff have used the rule to full affect, giving Fletcher a full appearance alongside Wilfried Zaha and Fabio da Silva.
Adam Thomas' second half headers ensured a surprise win for the Potters against a United side, winners of the inaugural Under-21 Premier League last season, who suffered their second loss of the campaign.
Fletcher's imminent return to first-team duties is a huge boost to manager David Moyes, who added just one player of significance in the summer transfer window in Marouane Fellaini from Everton.
Moyes has claimed United are several world class players short of contest for major honours this season, and the return of Fletcher would bolster the club's midfield resources ahead of a January transfer window in which the manager is expected to pursue a central midfielder.
The Scot said last month: "It is great to get Darren back.
"We will bring him along, his training is coming along well, but we don't want to do anything that might give him a setback.
"It is a sort of steady, slow grind for him just now. But we are pleased and hope to involve him in the upcoming reserve games in the weeks to come, if he continues to do as well as he is doing now."