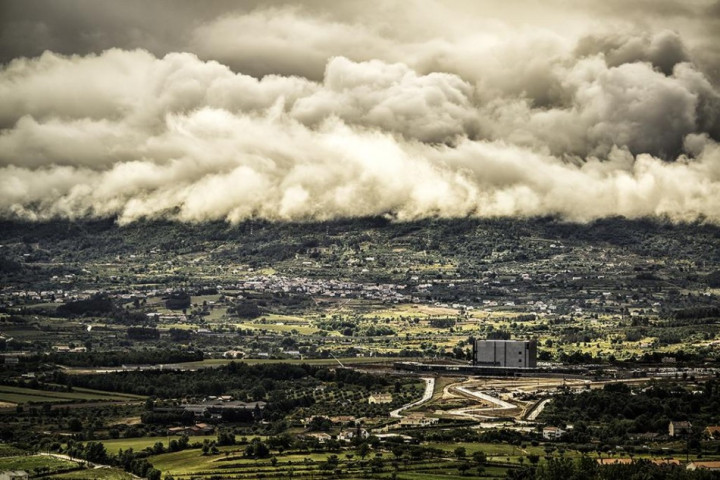 On Sunday, the old men of this sleepy, central Portuguese hamlet, nestled at the base of the Serra da Estrela mountain range, sat around the town square looking at a ten-foot tall, digital countdown clock.
The clock was counting down the hours until Portugal Telecom's new data centre was switched on.
The countdown clock however was not necessary to pique locals' interest, as the 55m-high black cube which has been erected outside their town could not have gone unnoticed.
The building has an unworldly quality which is at odds with the landscape surrounding it. It feels like building which might house the NSA, GCHQ or some other top secret spying agency.
James Bond
It would not be out of place as the lair of one of James Bond's nemeses.
It has been designed to seem as if floating in the air, suspended over a lake, hovering among the clouds.
The reception room has more in common with a modernist hotel than a typical data centre. A young Portuguese artist has been commissioned to create a piece of statement art which would not look out of place at the Tate Modern in London.
This is not what you imagine as a typical date centre, but then again Portugal Telecom (PT) is not your typical telecoms company.
'Largest data centre in Europe'
I travelled to Covilha last weekend to visit what was billed as the largest data centre in Europe and one of the largest in the world.
The numbers I was presented with were indeed quite impressive - 75,000 square metres in size; 50,000 servers; 30 petabytes of information.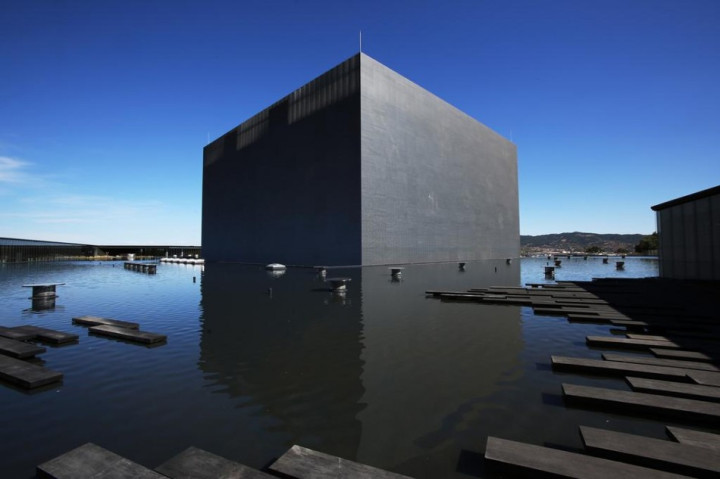 Sadly this was a bit of misdirection on the part of PT. The data centre in Covilha has the potential to be one of the largest in the world, and has the potential to store up to 30PB of information.
The current capacity is a quarter of stated numbers, and during my visit the server rooms felt distinctly empty.
This annoyed me. I felt duped.
Excited
However as I spent time with Portugal Telecom, its staff and its executives, I realised that rather than being malicious, they were just excited.
They wanted people to know about this data centre which they are incredibly proud of and they wanted the wider world to know about the company itself.
Portugal Telecom is a proactive rather than reactive company, something which is very rare these days.
Aggressive
Five years ago it saw the future and aggressively pursued a policy to take advantage of it. It knew that data was the new gold and transmission of that data was key to success.
Five years on, the company has a nationwide 100Mbps fibre broadband network, a 4G super ast mobile broadband network covering 92% of the country and is has a majority share of the pay-tv market, which is Portugal is used by some 80% of the population.
Each PT employee I spoke to was effusive in their praise of the company but rather than spouting PR rhetoric, it seemed as if they were genuinely passionate about the company.
Abilio Martins, the company's head of marketing and a board member spoke of the desire to connect people, and the Portuguese people's desie to connect. He casually mentioned that every single PT customer who uses its TV service can create their own TV channel, and share content with friends or, in the case of businesses, potential customers.
Innovative
PT holds the patent for this system and is just one example of a different way of thinking which seems absent from similar companies here in the UK.
With the launch of the data centre, Portugal Telecom now has full control over every aspect of its network from your phone to storing your data. In the wake of Edward snowden's revelations this may scare some people, for PT it allows them to be more competitive on price and extend its reach outside of Portugal.
Five years ago PT went to government in Portugal and told them it would build a fibre broadband network but that it would take years to complete and in order to do it, the government would have to waive regulatory oversight - not only for PT but for anyone looking to build such a network.
And amazingly the Portuguese government said OK, and as a result today Portugal has a broadband and 4G infrastructure the envy of most other European countries.
Different
In the UK the situation is very different. This week the spotlight was on broadband access with MPs slamming the way the rollout of rural broadband has been handled.
While Portugal Telecom and the Portuguese government have shown themselves to be proactive, most networks and the government here in the UK are slow to react to change, hence the slapdash approach to network infrastructure in this country.
Portugal Telecom says that over 50% of its revenue is from data. It knows that the internet of things is going to happen, it knows that being able to handle, transmit and store huge volumes of data is going to be vital in the coming years - and it's ready.