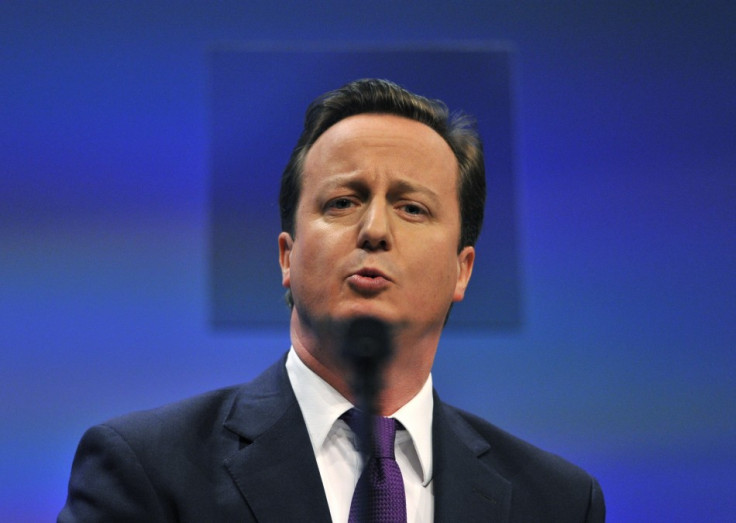 Prime Minister David Cameron Delivered his Keynote speech yesterday on the last day of the Conservative Party conference in Manchester. In it, Cameron appeals for a "can-do optimism" during an "anxious time" for the country's economy.
This week, in Manchester, this party has shown the discipline, the unity, and the purpose that is the mark of a party of government. I'm proud of my team, I'm proud of our members, I'm proud to lead this party - but most of all, I'm proud of you.
People have very clear instructions for this government:
"Lead us out of this economic mess."
"Do it in a way that's fair and right."
"And as you do it, make sure you build something worthwhile for us and our children."
Clear instructions. Clear objectives. And from me: a clear understanding that in these difficult times, it is leadership we need. To get our economy moving. To get our society working, and in a year - the Olympics year - when the world will be watching us, to show everyone what Great Britain really means.
But first I want to say something to you in this hall. Thank you. Despite the predictions we won elections all over the country this May, so let's hear it for those great campaigns you fought and the great results you achieved.
And thank you for something else. In the AV referendum, you did Britain a service and kicked that useless voting system off the political agenda for decades to come.
And next year let's make sure we back Boris, beat Ken and keep London Conservative. You're not just winners - you're doers.
...
In four years' time, this country will have helped vaccinate more of the world's poorest children than there are people in the whole of England.
Of course, we'll make sure your money goes to the people who need it most, and we'll do it in a way that's transparent and accountable. But I really believe, despite all our difficulties, that this is the right thing to do.
That it's a mark of our country, and our people, that we never turn our backs on the world's poorest, and everyone in Britain can be incredibly proud of it.
...
If we fool ourselves that we can grow our economy, mend our society, give our children the future we want them to have.
If we fool ourselves that we can do these things without effort, without correcting past mistakes, without confronting vested interests and failed ideas, then no, we're not going to get anywhere.
But if we put in the effort, correct those mistakes, confront those vested interests and take on the failed ideas of the past, then I know we can turn this ship around.
Nobody wants false optimism. And I will never pretend there are short cuts to success.
But success will come: with the right ideas, the right approach, the right leadership. Leadership from government: to set out the direction we must take, and the choices we must make. But leadership also from you.
Because the things that will really deliver success are not politicians or government. It's the people of Britain, and the spirit of Britain.
...
So let's reject the pessimism. Let's bring on the can-do optimism. Let's summon the energy and the appetite to fight for a better future for our country, Great Britain.
Of course that starts with our economy. As we meet here in Manchester, the threat to the world economy - and to Britain - is as serious today as it was in 2008 when world recession loomed. The Eurozone is in crisis, the French and German economies have slowed to a standstill; even mighty America is being questioned about her debts.
It is an anxious time. Prices and bills keep going up - petrol, the weekly shop, electricity. On the news it's job losses, cutbacks, closures. You think about tuition fees, and house prices, the cost of a deposit, and wonder how our children will cope. Of course, government can help - and this one is.
...
The new economy we're building: it's like building a house. The most important part is the part you can't see - the foundations that make it stable. Slowly, but surely, we're laying the foundations for a better future. But this is the crucial point: it will only work if we stick with it.
And there's something else we've got to stick to. Because we're not in the Euro, we can lay these foundations ourselves: on our own terms; in our own way. So let me say this: as long as I'm Prime Minister, we will never join the Euro.
...
You know what the shadow chancellor, Ed Balls claimed last week? That Labour didn't spend more money than they had "available".
Hello? Ed - you spent £428 billion more than you had "available". There is only one conclusion you can rationally draw. We must never let these Labour politicians anywhere near our economy again.
...
Frankly, there's too much 'can't do' sogginess around. We need to be a sharp, focused, can-do country.
...
The apartheid between our private and state schools is one of the biggest wasted opportunities in our country today. So let it be this party that helps tear it down.
Rigour back in learning. Standards back in schools. Teachers back in control. Yes - the Conservatives are back in government.
An economy that works for everyone means sorting out welfare and immigration too. Welfare began as a life-line. For too many it's become a way of life. Generation after generation in the cycle of dependency - and we are determined to break it.
Part of our answer is controlling immigration. So we've put a cap on the numbers of non-EU immigrants allowed to come into our country to work. We mustn't lock out talent - I want the best and brightest entrepreneurs, scientists and students from around the world to get the red carpet treatment.
...
A few months ago, we were shocked by the scenes on our streets in London and other parts of the country. But perhaps the most shocking thing is that people weren't that surprised. There was no great call for a public enquiry to find out what had gone wrong.
Instead the sound you could hear was the angry, insistent, overwhelming cry of a country shouting to its leaders: We know. We know why this happened. We know what's gone wrong. We know that if the system keeps fudging the difference between right and wrong, we'll never improve behaviour.
...
Let's turn this time of challenge into a time of opportunity. Not sitting around, watching things happen and wondering why. But standing up, making things happen and asking why not.
We have the people, we have the ideas, and now we have a government that's freeing those people, backing those ideas.
So let's see an optimistic future. Let's show the world some fight. Let's pull together, work together. And together lead Britain to better days.