David Beckham paid a visit to Manchester United at their team hotel ahead of the Premier League side's friendly match against LA Galaxy.
The former United and England midfielder caught up with one of his only team mates still left at the club, Ryan Giggs, as well as Wayne Rooney, whom Beckham led as England captain.
United have been preparing at the Rose Bowl in Pasadena, California, before they kick off their pre-season US tour against another of Beckham's former clubs, LA Galaxy.
A relaxed Louis van Gaal was pictured talking to Beckham, who retired in 2013 after playing his final competitive match for Paris St Germain, and appeared in a photo alongside his assistant manager Giggs and Beckham - both of whom were Fergie's Fledglings.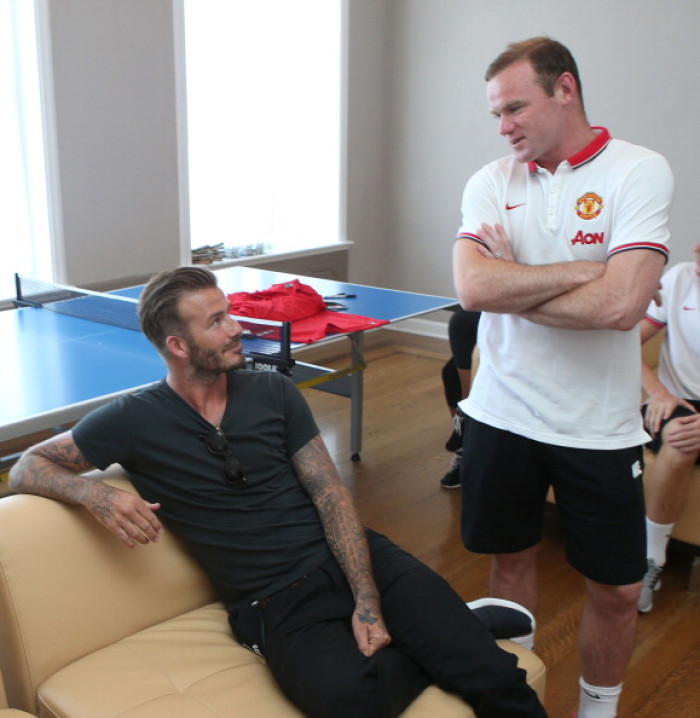 After playing LA Galaxy, United will head to Denver where they will face AS Roma and Ashley Cole on July 26.
They will then jet to Washington where they will be reunited with yet another familiar face - that of Nemanja Vidic - as they go up against Inter Milan on 30 July before playing in front of 100,000 fans at the Michigan Stadium, Michigan, for a suitably star-studded friendly against Real Madrid.
Meanwhile, Nick Powell is to fly out to America to join the United squad over the next 72 hours after recovering from an injury.
Powell, an attacking midfielder who scored seven goals in 32 appearances while out on loan at Wigan last season, is expected to be in contention for for the second game of the tour, against Roma in Denver.