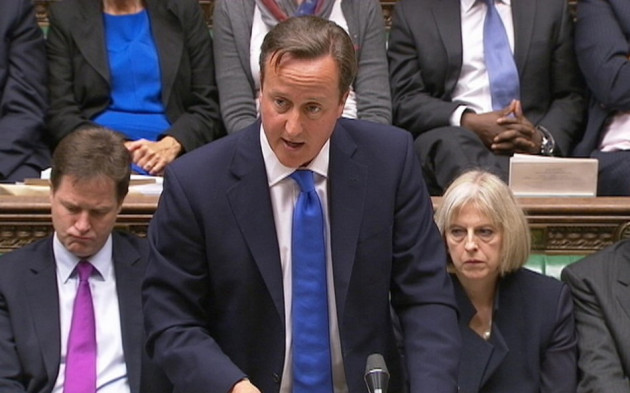 Prime Minister David Cameron may have broken UK rules on statistical releases when he made reference to "good" GDP figures that will not be made public until Thursday during a parliamentary statement.
The UK Statistics Authority told IBTimes UK it was looking into several reports that suggested the PM may have violated strict embargo rules on important economic data releases when he told the House of Commons that "more good news" on the economy was imminent.
"The good news will keep coming," he said during a robust defence of his economic record amid a sharp exchange with Opposition leader Ed Miliband at Prime Minister's Questions. "It is the Conservatives getting behind growth and jobs."
The Office for National Statistics is set to publish its first estimate of UK GDP growth at 0930 London time Thursday. Economists are expecting a marked improvement in growth - 0.7 percent - for the three months ending in September and a turnaround from the steepest double-dip recession in at least a generation.
However, the figures are jealously guarded by the ONS to avoid ceding any trading advantage by their early release. Leaking from the ONS, unlike nearly every other unit of the government, is virtually non-existent.
The UK Statistics Office, set up in 2008, is designed to "promote and safefuard the production and publication of official statistics that serve the public good" according to its website. It is responsible for the oversight of the ONS and the independent scrutiny of all official statistics produced in the United Kingdom.
The prime minister's potential gaff is another in a long series of commuications issues that have hamstrung his coalition government and clouded the improvements it has made in both economic and domestic policy.
Last week former Chief Whip Andrew Mitchell was forced into a humiliating resignation after it was made public that he had verbally abused a police constable who prevented the Conservative lawmaker from exiting Downing Street on his bicycle.
Inflation has slowed to a three-year low and ONS employment data shows more Britons are in work - 29.56 million - than at another other time in the economies history.
Cameron's approval rating, according to recent YouGov poll, is stuck at 37 percent.