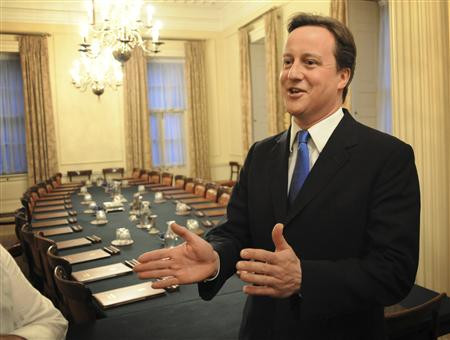 David Cameron has launched a surprise attack on those in his own party who are not at ease with the way in which he has embraced the Liberal Democrats and shed many of his party's own core commitments.
In a last-minute email to Tory MPs Mr Cameron called for a change in the rules of the 1922 Committee to allow ministers to join and vote in its meetings.
The Committee is an influential group made up of backbenchers who traditionally act as the voice of the grassroots of the party and hold the government to account. While in opposition Tory shadow ministers may join meetings but while in government the Committee has only been open to backbenchers.
The Committee met today and many members were surprised to learn that a vote for a change of rules had been proposed. Mr Cameron claimed that allowing ministers to join would create a more united party, while some Tories claimed it was an attempt to "effectively abolish" the Committee.
When it came to a vote members were strongly divided, but Mr Cameron's suggestion passed with 168 supporting the change and 118 against.
One Tory MP, Douglas Carswell, opposed the motion, saying on his blog, "The suggestion that we might abolish the Conservative backbench forum (1922 committee) would make it more difficult to hold ministers and frontbenchers to account. This measure would centralise power. I voted against it."
Another, Bill Cash, described the change in rules as "tragic", while yet another, Christopher Chope spoke of the sudden nature of the vote saying it came "like a bolt out of the blue".
The move is likely to alienate many in Mr Cameron's party who are already displeased that he has u-turned on many manifesto commitments in his eagerness to get into Number 10.
Many grassroots Tories are dismayed that Cameron has scrapped proposed inheritance tax cuts, will be raising capital gains tax from 18 to 40 or 50 per cent and the decision to go back on a pledge to scrap the Human Rights Act, which this week prevented a terrorist from being deported from this country. The u-turns also follows the breaking of a "cast iron guarantee" by Mr Cameron while in opposition to hold a referendum on the Lisbon Treaty.
Not only was Mr Cameron willing to give away such manifesto commitments in his desire to appease the Lib Dems but there have even been suggestions that he was happy to do so and that his negotiating team were offering concessions faster than the Lib Dems could ask for them.
His apparent enthusiasm for the Lib Dems and their leader Nick Clegg has prompted speculation that should the coalition break down it will not be because of a rift between Mr Cameron and Mr Clegg, but of one between Mr Cameron and his own backbenchers.
Mr Cameron will no doubt be hoping that today's move on the 1922 Committee will neutralise that possibility.
Mr Cameron's latest actions come as part of a series of moves that appear to be aiming to entrench the coalition in power and minimise effective opposition.
The Cameron-Clegg government is currently attempting to pass legislation introducing fixed five year parliaments which could only be removed by a vote of 55 per cent of MPs, up from the current 50 per cent plus one.
The move has been described by David Davis, former shadow Home Secretary and rival to Mr Cameron for the 2005 leadership contest, as a "serious mistake" that could create a "crippled government" that would not be able to pass any legislation but could also not be removed.
Proposals to flood the House of Lords with over 100 new Conservative or Lib Dem peers, supposedly to make it reflect the proportion of votes in the recent election have also raised concern. Such a move would severely weaken the independence of the upper house and its ability to oppose government legislation.
The quality of the new peers has also been called into question as it could simply lead to party place men and failed MPs being given seats in the legislature.