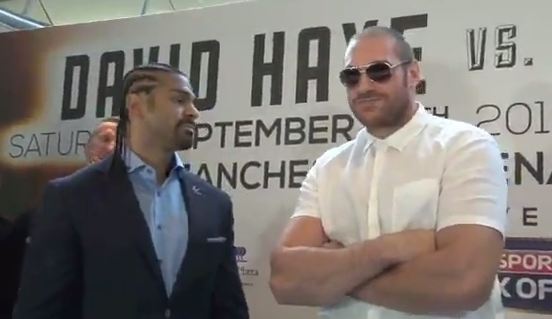 Former WBA heavyweight champion David Haye will now face Tyson Fury on Saturday 8 February after the original date for the highly anticipated clash was postponed.
A deep cut Haye suffered during a sparring session that required six stiches saw the contest scheduled for 28 September called off, much to the disappointment of both fighters.
But both Hayemaker Promotions and Hennessy Sports have swiftly worked to come up with a new date in early 2014.
"News of the date in February is music to my ears," Haye said. "I was absolutely devastated this weekend and felt and thought I'd let a lot of people down. But now, with this new date, I couldn't be happier.
"My fans will get the chance to see what they all wanted to see this weekend - they'll get to see Tyson Fury sparked out in a spectacular fashion."
The outspoken Fury was left frustrated when news of Haye's withdrawal emerged just seven days before their bout.
The unbeaten heavyweight used his Twitter account to claim Haye had been looking for excuses to duck out of their meeting at Manchester's Phones4U Arena, questioning the logic behind the Londoner's decision to spar so close to the big night.
However the former two-weight world champion has dismissed such suggestions, insisting everything was on schedule for the meeting between the two British heavyweights.
"Sparring eight days before a fight is nothing new or unusual," Haye added. "I've done this before fights in the past and never had an issue.
"Also, look at the history books. George Foreman sparred and got cut eight days before his 'Rumble in the Jungle' with Muhammad Ali - causing a six-week postponement - and Sugar Ray Leonard sparred and got knocked down five days before his fight with Marvin Hagler, but still managed to go on and win.
"These things sometimes happen in training, and to suggest I decided against wearing a head-guard, or that the cut was premeditated, shows a clear lack of knowledge and understanding."