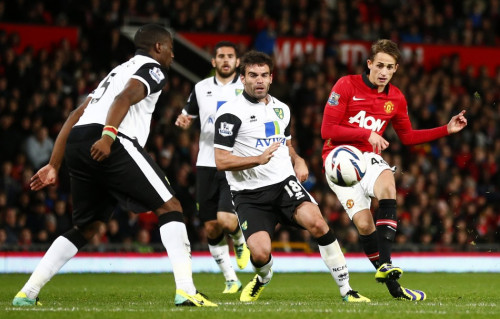 Manchester United manager David Moyes has hailed Adnan Januzaj for his impressive performance during their 2-0 win over Swansea City at Old Trafford and has backed him to become one of the best players in the world.
The Premier League champions suffered three defeats in all competitions this year and a win over the Welsh club saw Moyes's side register their first win of 2014. Antonio Valencia and Danny Welbeck's second half goals saw United seal three points.
United are without the services of Robin van Persie and Wayne Rooney as the former Arsenal skipper and the England intentional are both ruled out due to injuries. Welbeck has been leading United's attack in the duo's absence.
Januzaj was deployed behind the striker in the first half, with Shinji Kagawa playing on the left. However, the two interchanged positions in the second half and the 18-year-old played a crucial role moments before both goals were scored.
"He played so well against Sunderland in mid-week behind the striker, we felt it might just create some more opportunities, maybe cause them a few more problems. It didn't work well as we wanted in the first half," Moyes explained.
"With Adnan coming out wide left at times he was very difficult for them to cope with. He's some player, the boy's going to be one of the best in the world; I have no doubt about that."
Januzaj signed a contract extension earlier this season and has been a first team regular under the former Everton manager. He has featured in 15 league games this season, scoring three goals and managing two assists in the process.
The 50-year-old Scot admitted that Januzaj's performance this season has earned him a place in the starting line up.
"We'll keep bringing him along, we're having to play him a bit more than we would like but what I would say is he's earning his place in the team because of how well he's playing," United manager added.
"Sometimes when you're young, and I remember Wayne [Rooney] at the same age at Everton people kept saying to me I was leaving him out, but these young boys want to play all the time, they don't know anything about tiredness or how many games they've played."