David Moyes says Marouane Fellaini 'Can be a Good Manchester United Player'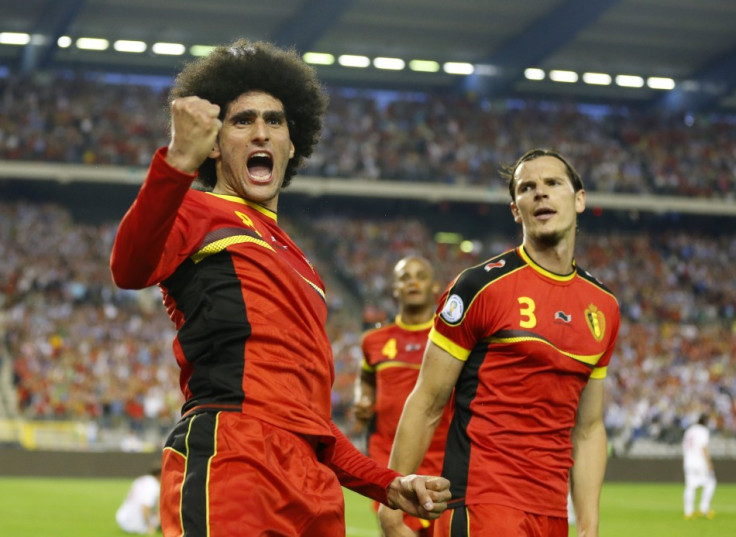 David Moyes has lifted the lid on his much-derided purchase of Marouane Fellaini last August.
The former Everton manager was sacked just 10 months into his six-year contract, even though he was hailed as the 'chosen one' by the Old Trafford faithful after taking over with the personal blessings of the retiring Sir Alex Ferguson.
An exciting 2013 summer transfer window was expected with United linked with many top footballers and Moyes wanting to make a statement at the start of his reign. However a summer of disappointment followed, with the Scot failing to bring any of his primary targets and then making a panic deadline day move which saw Fellaini arrive at Old Trafford for £27.5m.
Even though Moyes was disappointed with the big Belgian, he feels Fellaini will show his true self in the coming season with United. He feels he took time to settle down to the new style and position, but was starting to have an impact at the end of last season.
"I felt for him over the criticism he took. He's a shy boy, a humble boy, a quiet personality. Despite appearances - the hair makes him look like an extrovert - he's a gentle, sometimes, emotional soul who is so desperate to do well and he was hurting because he wasn't able to show his true self at the start of his United career," Moyes said, as quoted in the Express.
"Without going over old ground regarding last summer's transfer window, I want to make two points. The last thing we wanted was to make him my first signing as United manager and the only signing of the summer.
"That was always going to bring too great a spotlight on him. But by the time we got to deadline day the club hadn't been able to close a couple of big deals and there was no choice.
"His size is such a threat to the opposition. He's technically gifted, especially when it comes to chest control, and he's formidable in the air - though, actually, I feel he should score more headers than he does. He can run," the former Manchester United manager explained.
"He has brilliant fitness, a brilliant attitude. What we saw him do [in Belgium's victory] against Algeria was what I brought him to Manchester United for.
"He took time to settle at Old Trafford but in the final month of last season was becoming an influence, a different sort of player to the ones already there and one who was having an impact in games and helping produce goals. I feel he still has the potential to go on and be a good United player," Moyes concluded.
The Red Devils had a season to forget, finishing seventh in the league, and their big summer signing failed miserably to make a mark and justify his transfer. The former Everton midfielder made just 19 appearances and failed to score any goals.
© Copyright IBTimes 2023. All rights reserved.