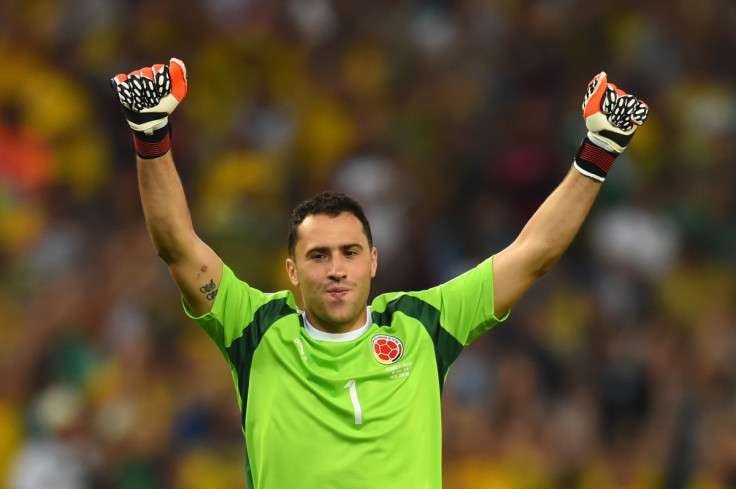 Arsenal stopper David Ospina has revealed that he admires Hugo Lloris, David de Gea and Joe Hart among goalkeepers in the Premier League and strives to emulate them in his quest to keep the number one spot at Arsenal.
The Colombian has maintained four consecutive clean sheets for the Gunners and has overthrown Wojciech Szczesny as the preferred goalkeeper in the side. The Pole made two massive errors, which led to goals against Southampton and followed that up with a smoking incident in the shower, which has seen him start only cup games since the turn of the year.
Ospina, who signed from Nice in the summer, has been brilliant thus far and has earned a lot of praise from the media and pundits alike with his calmness on the field and his ability to gauge the danger, something which Szczesny has often been criticised for.
Ospina wants to follow the likes of David Seaman and Darren Lehmann at Arsenal and his recent performances suggest that the same is not past him, should he maintain his form.
"In Europe, I've always admired Iker Casillas. There's Manuel Neuer now, who's a great goalkeeper, and Buffon. You try to emulate them - they've won lots of titles playing for massive teams," he told of official Arsenal website.
"There are some very good goalkeepers in the Premier League, too. There's De Gea, Hugo Lloris, Hart - they're great keepers who've proved their worth over the course of many seasons and are continuing to do so now.
"At Arsenal we have very good goalkeepers in the shape of Wojciech Szczesny and Emiliano Martinez. The Premier League has always had top-quality goalkeepers.
"In Colombia everyone looks up to Rene Higuita. Then there were three other goalkeepers that were very important: Faryd Mondragon, Oscar Cordoba and the late Miguel Calero. They were very important to Colombian goalkeeping and achieved great things outside of the country," he concluded.