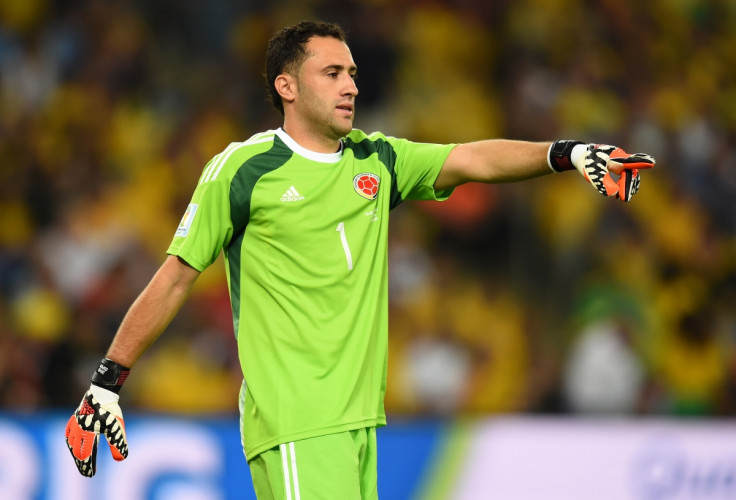 Arsenal manager Arsene Wenger has sent a warning message to David Ospina claiming Wojciech Szczęsny is still his Number one even though the Colombian international has started the last three Premier League games.
Ospina moved to the Emirates Stadium this summer from Nice after Wenger agreed to pay around £3m to secure his services following an impressive World Cup campaign with Colombia.
The 26-year-old keeper was expected to fight with Szczęsny for the number one role following the Lukasz Fabianski exit, but an injury earlier in the season hampered his adaptation to the Premier League.
After Szczęsny reportedly smoked in the showers following the New Year's day loss at Southampton, Wenger handed Opsina a starting role during the team's 3-0 victory over Stoke City on Sunday 11 January, and the Colombian has since kept two further clean sheets in the next two Premier League victories over Manchester City and Aston Villa.
However, Wenger believes that even though he looks completely settled into the Premier League, he is yet to win Szczęsny the number one role.
"David Ospina has had some time to settle because he was injured when he arrived here. During that time we could see his dedication, his focus and his quality. He's in a fight with Wojciech Szczęsny to start at the moment. Wojciech is the No1 but David has played recently," Wenger said, according to Standard Sport.
"Can he retain the shirt in the coming games? We'll decide that. I don't forget Emiliano Martinez either, who I rate highly. We have three top goalkeepers and the fight for who starts is going on."
It is expected Ospina will remain under the sticks for the London derby against Tottenham on Saturday but Wenger urges him to stay consistent should he want to retain the starting spot.
"You have to be consistent if you want to retain the shirt. It can be very difficult to adapt for a goalkeeper when you move to England. In fact, it is maybe the most special and difficult position to get used to. Why? Because there is more freedom here to challenge the keeper than in any other country, which I like.
"It is a big test for a goalkeeper because you need to be committed, brave and not fazed by the challenges you get. The first signs that David has shown are positive but it is not done. Every game is no important for him."