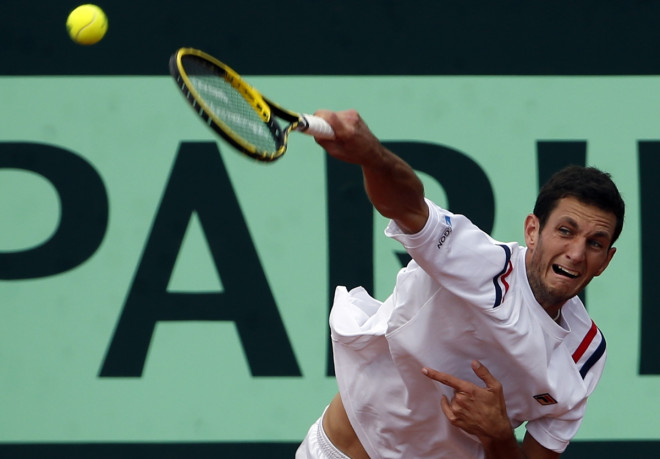 Italy have taken a 1-0 advantage in their Davis Cup quarter-final meeting with Great Britain after James Ward suffered defeat to Fabio Fognini.
After reaching the quarter final stage for the first time in 28 years Andy Murray must take something from his game against Andreas Seppi after Ward suffered a 6-4 2-6 6-4 6-1 defeat in Naples following a rain delay.
A powerful second set from Ward levelled things after the Italian took the lead despite a dispiriting start, but the world no. 13's quality shone late on as he sealed victory.
Ward enjoyed a blistering start as he strode into a three game lead in the opening set as Fognini over hit a number of returns, clinching the third with a superb drop shot after the Italian had fought back to earn two break points. After his loose start however Fognini emphatically won the next five games before sealing the first set with a thumping forehand down the line which Ward could only bury into the net.
His troubles in the first threatened to undermine Ward's fight back in the second set as Fognini stormed into a 30-0 lead but the Londoner responded with a terrific drop shot before taking the next three games, holding serve after a fizzing backhand that frustrated the Italian.
But the turning point in the second set came in its sixth game as an absorbing exchange produced six break points before Fognini's over hit forearm gave Ward the game and the impetus to clinch the set.
However another bright start from Ward was again short-lived as Fognini claimed a 4-2 lead after another break point as the Brit directed his return into the net en route to surrending the third set.
The sign of clouds menacingly gathering above Naples was a worrying omen for Ward, and for Andy Murray's clash with Andreas Seppli later on which is unikely to be completed by the end of the day.
Seemingly not fancying been left to play in the drizzle, Fognini sealed victory after grabbing two early break points en route to an emphatic 6-1 in the final set, finishing with an excellent drop volley.