Internet giants Facebook, Google, Twitter and Yahoo have joined more than 100,000 people - including web creator Sir Tim Berners Lee - in speaking out against mass surveillance by the NSA.
The companies are part of the Reform Government Surveillance coalition, which also includes AOL, LinkedIn and Microsoft as founding members. The coalition has signed a petition entitled The Day We Fight Back, adding a banner to its website and encouraging visitors to do the same.
Held to remember internet activist Aaron Swartz a year on from him committing suicide, the internet-wide campaign also marks just over two years since the US government's controversial Sopa (Stop Online Piracy Act) was defeated, helped in part by the 24-hour blackout of websites including Reddit and Wikipedia.
The protest coincides in the UK with Safer Internet Day, aimed at promoting safer and more responsible use of online technology and mobile phones, especially among children.
The Day We Fight Back's website states: "In January 2012 we defeated the Sopa and Pipa censorship legislation with the largest internet protest in history. Today we face another critical threat...Governments' worldwide need to know that mass surveillance, like that conducted by the NSA, is always a violation of our inalienable human rights."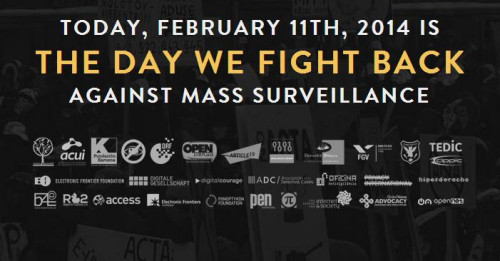 At the time of publication, some 5,000 websites are said to be taking part in the protest, and the petition had been signed by more than 100,000 people, with the figure rising by hundreds every few minutes. Berners-Lee was one of them, tweeting the protest's message of "Today I took a stand against mass surveillance. Will you join me?"
David Segal, executive director of Demand Progress, a participant in the day's activity co-founded by Swartz, said: "Today the greatest threat to a free internet, and broader free society, is the National Security Agency's mass spying regime.
"If Aaron were alive today he'd be on the front line, fighting back against these practices that undermine our ability to engage with each other as genuinely free human beings."
For those in the US, protest partner Electronic Frontier Foundation gave instructions for how to call Congress, complete with a script of what those concerned about the NSA activity should say.
"I'd like you to work to prevent the NSA from undermining encryption standards and to protect the privacy rights of non-Americans," the script reads.
Josh Levy of Free Press said the NSA programmes "attack our basic rights to connect and communicate in private, and strike at the foundations of democracy itself. Only a broad movement of activists, organisations and companies can convince Washington to restore these rights."