Manchester United goalkeeper David de Gea is unhappy with David Moyes' shake-up of the Old Trafford backroom team after coach Eric Steele followed Sir Alex Ferguson out the exit door at the Premier League champions, ESPN understand.
Steele is among three United stalwarts to leave the club following Ferguson's retirement as manager, with assistant boss Mike Phelan and first-team coach Rene Meulensteen both departing in the close season.
Moyes is expected to draft in former defender Phil Neville as well as Everton assistant Steve Round, goalkeeping coach Chris Woods and chief scout Robbie Cooke as the Scot seeks to manage the transition at United following Ferguson's departure after over 26 years as manager, ahead of the official start of his reign on 1 July.
But De Gea is reportedly upset with the wholesale changes made by Moyes prior to the official start of his tenure next month, with Steele having played a pivotal role in the Spaniard's improved form in his second season in the Premier League.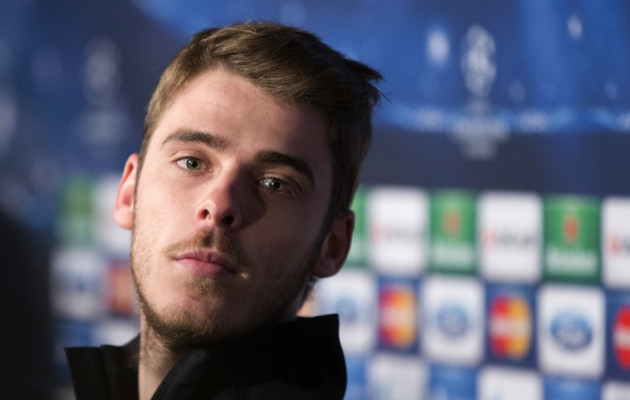 The 22 year old endured a torrid campaign in the United goal after signing from Atletico Madrid as a replacement for Edwin van der Sar in the summer of 2011, with his wiry physique labelled inadequate for the English top flight.
However, after seeking to improve his build, De Gea has enjoyed an impressive 2012/13 season, being voted into the PFA Team of the Year as he helped United to a record 20th league title.
De Gea was linked earlier in the season with replacing Victor Valdes at Barcelona, with the fellow Spain stopper's contract due to expire at the Nou Camp in 2014, but despite being uncomfortable with the situation regarding United's backroom tinkering, he is content with life in the Premier League.
"I faced normal difficulties - a new country, language, a different league - but through hard work I managed to adapt. I am very happy in Manchester," he told ManUtd.com.
"I felt great sadness when I heard about Ferguson's goodbye," he added. "It will be strange not to see him on the bench or on the training ground. He is everything at Manchester United. He is Manchester United.
"Moyes had done a great job at Everton and now all of us have to support him. To substitute Ferguson is a huge target but if they chose him to do it, it is because he is prepared."
Among three of Ferguson's former cohorts to leave United upon the 71 year old's departure, Steele is credited with the about-turn in De Gea's fortunes in English football, with his crowning moment coming in the 1-1 Champions League draw with Real Madrid.
After the performance in the Bernabeu was billed as De Gea's coming of age, Steele admitted previous criticism had not affected the United protégé.
"Any criticism goes off that quiff. That is the great thing about him," Steele said in February. "He's able to say: 'Right, fine'. He might have dark moments but he keeps them away from the training ground. If he is ever hurt, he doesn't show it.
"You bring a boy into the Premier League at 20, it's not easy," Steele added.
"He's learning in the toughest environment in the world. But the one thing he has is fantastic inner strength. We teach him that the calmest man on the field has to be the goalkeeper. And one of his great strengths is his calmness.
"There have been dark moments but he has his family close to him. He doesn't read the press. All the other mediums are there, which he knows about. But everything that has been going on around him for the last four or five months, trust me, he's very mature for his age. He's had to be because you're not just replacing a goalkeeper in Edwin, you're replacing a legend.
"It's not just about the shot-stopping. There's more to it. Put it this way, if you think about what David has been through, he has to have inner strength. He has dealt with it. And he's such a likable lad. He hasn't come in swearing and squeaking. He's just got on with his job."