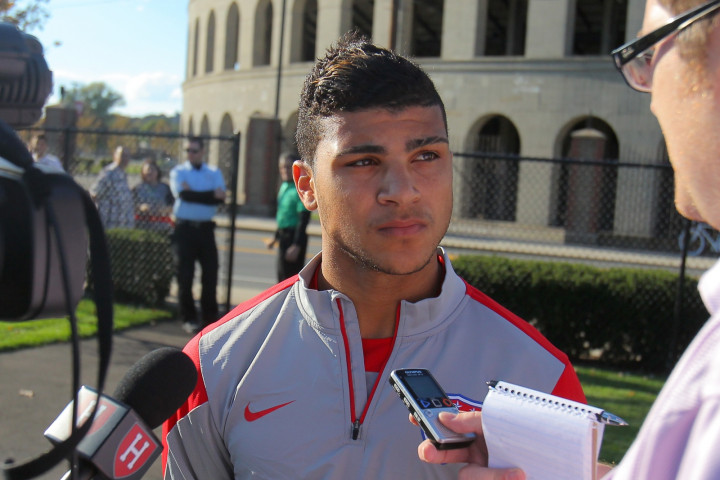 American starlet DeAndre Yedlin says he is ready to join Tottenham Hotspur as early as the January transfer window if called upon by Mauricio Pochettino.
Spurs struck a deal with Seattle Sounders following the right-back's impressive performances for the USA in the World Cup.
The Premier League side initially agreed to allow Yedlin to remain in the MLS until June 2015 but their defensive struggles -- worsened by Kyle Walker's absence -- have left Pochettino with little choice but to consider bringing the defender in earlier than planned.
The 21-year-old has applied for a Latvian passport which permits him to play in England ahead of his arrival, although he is still waiting to hear whether his services will be needed this winter.
"I'm really trying to focus on my season and what I'm doing there but I have been keeping up with them as well, just trying to keep in touch and see how they're doing. But I am ready," Yedlin is quoted as saying by the Daily Express.
"Wherever I'm put I'm ready to step in, whether that's coming in and playing, coming in and challenging a guy for a spot, or coming in and having to work for a little bit until I get a spot. I'm ready for whatever.
"I don't know when I am going.
"I'd like to get there and help but I don't know all the ins and outs of that process so (I'm) just waiting to hear what happens."
Right-back has been a problem area for Spurs throughout the season during Walker's absence. The England international has not played since March after suffering an abdominal problem he eventually underwent surgery to address in September.
The 24-year-old however did confirm his return to first-team training this week, although it is likely to be a number of weeks before he is considered for his full return after such a lengthy lay-off.