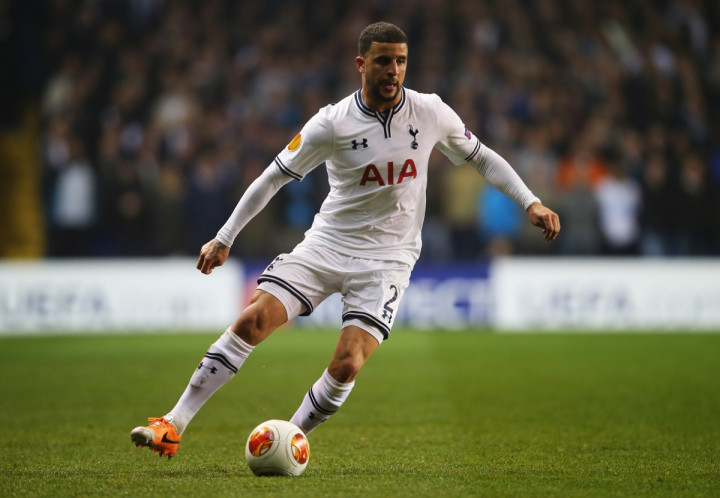 Tottenham have received a major boost after defender Kyle Walker revealed that he returned to training with the rest of the squad.
The Spurs defender was sidelined for over seven months, with his last Premier League appearance coming in March 2014. Walker underwent abdominal surgery in September and that has kept him out for an extended period of time.
The north London club have had a difficult start to the season and are currently languishing in 12th place with 14 points from 11 games. The return of Walker will come as welcome news to team manager Mauricio Pochettino, who has been employing Kyle Naughton and Eric Dier in the absence of the England international defender.
Walker is glad to be back and training with the squad and believes he will have a better idea in a couple of weeks regarding when he can make his return to the first team.
"It's great to be back out there with the lads," Walker told Tottenham's official site.
"I'm taking it one step at a time, doing things correctly as I've been told and I'll see where I am in a couple of weeks. Everything is good at the moment. I'll be even happier when I'm back playing but that's the final step," the former Sheffield United player added.
The 24-year-old defender believes that a spell on the side lines has helped him mature as a player and as a person and is confident that it can help take him to a new level.
Walker has revealed that he has put everything into his training and recovery and hopes that all the hard work pays off when he returns to action.
"I think I've matured as a player and a person and hopefully that will take me onto the next step in my career," the Englishman explained.
"From my operation to my first day back in training was a 12-week programme and I didn't miss a day's work."
"I thought to myself 'I'm going to put my all into this' and hopefully that will stand me in good stead in terms of training and then working my way back into the team. I'm taking it slowly and hopefully it won't be too long before I'm back out there at White Hart Lane," Walker concluded.