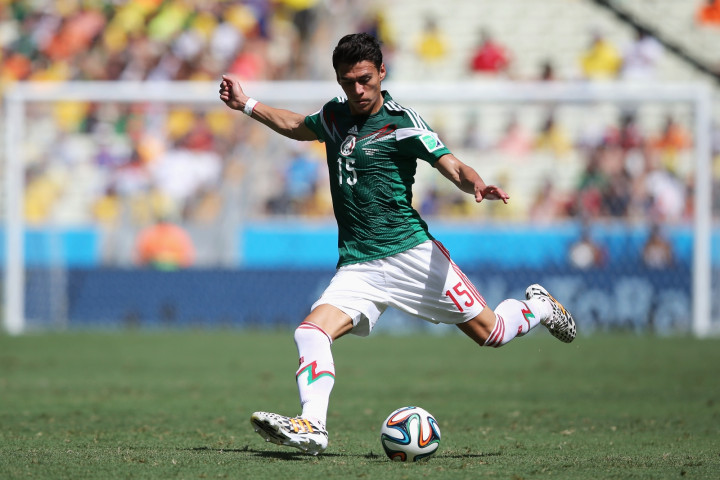 Tottenham Hotspur's hopes of curing their defensive problems with the signing of Mexico international Hector Moreno have been enhanced after the Espanyol centre-back pleaded with his club to allow him to leave.
The 26-year-old is recovering from a broken leg suffered during the World Cup last-16 defeat to the Netherlands which is expected to see the player miss the remainder of the year.
But as Moreno approaches full fitness he has appealed to Espanyol president Joan Collet to place him on the transfer list in order to speed up a potential move to Tottenham where he would be reunited with former manager Mauricio Pochettino.
"I really appreciate him [Pochettino], it was him who pushed for me [when I joined Espanyol in 2011]," he said.
"It has been said many times that the club are looking to sell me - it's not what I have said, it's what the president and the people on the board have said. It would be beneficial for Espanyol that I recover and be [available] in the market."
Prior to his injury, Moreno was a mainstay of the Espanyol defence, starting 32 times in La Liga for the club last season before being part of Mexico's 23-man squad at the World Cup.
Despite signing the likes of Eric Dier, Benjamin Stambouli, Federico Fazio and Ben Davies, only six sides in the Premier League have a worst defensive record than Tottenham this season with the 2-1 loss to Stoke City last weekend their fourth home loss of the campaign.
As a result, and with Tottenham having yet to confirm their place in the last 32 of the Europa League, Pochettino is the new fourth favourite to become the next Premier League manager to be sacked.
The Argentine joined from Southampton during the summer but is adamant he is not under pressure just three months into his tenure despite an uncertain start to his reign.
"No [I am not under pressure], but when you lose you are always unhappy," he said. "We need to find a solution very quickly. This is my challenge in the next few weeks."