Myanmar: Three Muslims Sentenced to Death for Rape and Murder of Buddhist Woman
Two surviving defendants have seven days to appeal against sentence for crime that sparked wave of sectarian violence in Rakhine state.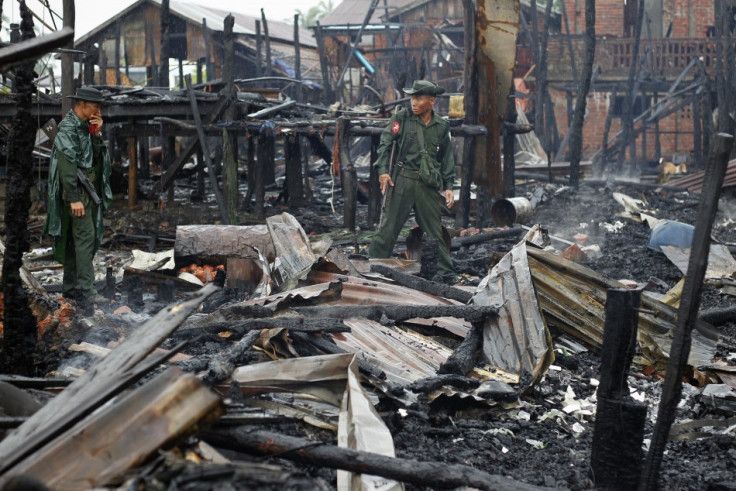 Three Muslim men who were accused of raping and killing a woman have been sentenced to death by a district court in Kyaukphyu, western Myanmar.
Htet Htet, Mahmud Rawphi, and Khochi also known as Myint Swe, raped and killed Thida Htwe, 27 on 28 May in Rakhine state, a court heard.
Htet Htet, who was accused of masterminding the murder, committed suicide in jail last week but was sentenced posthumously.
The death of the woman, who was a Buddhist, heightened existing religious and ethnic tensions and led to a series of violent sectarian attacks in the region. The accused belonged to the Rohingya tribe and were Muslim.
A mob of about 300 people attacked a bus on 3 June and killed 10 Muslim Rohingya pilgrims.
More ethnic clashes erupted, leading to the deaths of up to 50 people. More than 1,662 homes were destroyed and over 30,000 people displaced.
Human Rights Watch and other groups have sounded warnings about long-standing divisions and sectarian tensions between the Rohingya people and the Burmese authorities.
"For decades, the Rohingya have routinely suffered abuses by the Burmese army, including extrajudicial killings, forced labour, land confiscation and restricted freedom of movement," HRW said.
Others activists have warned against continuing state-sponsored violence, after mass arrests of Rohingya men were reported in the north of the state.
Chris Lewa, director of the Arakan Project, a research-based advocacy group monitoring the Rohingya situation, told the Democratic Voice of Burma (DVB): "There is no longer communal violence in Maungdaw - this is state-sponsored violence.
"The situation has got really bad. The army have been conducting mass arrest of young Rohingya males. Some people have seen them transported in trucks in handcuffs and blindfolded and the worst is that no one knows why," she said.
Lew told DVB that hundreds of young men trying to flee across the border to Bangladesh had been blocked from entering the country by Bangladeshi authorities.
Rawphi and Khochi have seven days to appeal against the ruling but the case still needs to be presented to the supreme court for a final decision, DVB reported.
No executions are known to have been carried out in Myanmar since at least 1988.
© Copyright IBTimes 2023. All rights reserved.