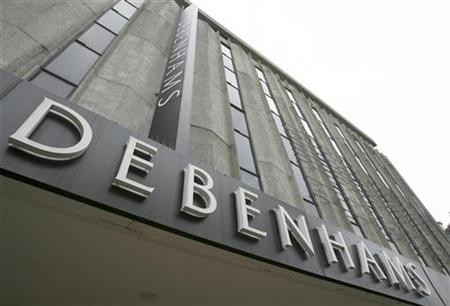 Shares in Debenhams were up on the FTSE 250 in morning trading after the group said that it expected profits for the full year ended 28 August to be up 20 per cent from the previous year to £150 million.
Debenhams said that its gross transaction value for the year was up 9.6 per cent while like for like sales were broadly flat from the previous year. The group also said that net debt at the end of the year would be "better than market consensus".
The group said that it had made market share gains in both menswear and childrenswear.
During the year Debenhams opened six new stores, of which three were department stores and three were Desire stores. Altogether Debenhams now has 147 department stores, 12 Desire stores, six Magasin stores and 60 international franchise stores in 23 countries.
Rob Templeman, Chief Executive of Debenhams, said, "We have said throughout 2010 that this would be a year of change for Debenhams and a year when the structural shift towards own bought merchandise means that we will judge our performance on profit improvement rather than sales. With this in mind, I am very pleased with the overall performance of the business this year.
"Our profit performance has been pleasing but we believe it is correct to remain cautious about the level of consumer confidence going forward. There is, however, much to be positive about in our business, including the benefits of higher own bought sales, the acquisition of Magasin, the growing multi-channel business and the ongoing store refurbishment programme, together with the deleveraging of the business through strong cash generation and lower interest costs following refinancing. All of this will collectively enable Debenhams to make further progress during the financial year ahead."
Keith Bowman, Equity Analyst at Hargreaves Lansdown Stockbrokers, commented,
"The group's emergence from the critical list continues. A focus on profit margins as opposed to sales remains central to management strategy, with the willingness of its banks to refinance its previously stretched financial position providing further momentum via reduced financing costs.
"On the downside, the group has again underlined fragile consumer confidence, whilst competition across the high street is intense. Nonetheless, with clear progress being made, market consensus opinion continues to denote a strong buy."
By 08:50 shares in Debenhams were up 3.92 per cent on the FTSE 250 to 67.55 pence per share.