EE calls it democratisation. Everyone else would probably call it domination.
Ever since EE launched the UK's first 4G network a year ahead of the competition, offering much faster data speeds over the older 3G networks, it has looked to hammer home its advantage.
In the 18 months since, EE revealed on Wednesday that it has signed up 3.6 million customers on 4G contracts, and the company's CEO Olaf Swantee said it was a "tipping point in our 4G business" with more people now signing up for 4G contracts than 3G contracts.
The company is on target it says to have 6 million 4G customers by the end of 2014.
Compare that to Vodafone's disappointing announcement on Tuesday that it had only signed up 637,000 4G customers since launching its service last year, while O2 is faring only marginally better with 1 million customers on its 4G network.
Rollercoaster
Swantee said EE's 4G success was achieved by "introducing a lot of innovations" and building brand awareness, with EE now known by over 55% of the population, which Swantee said was much quicker than most new brands.
As more and more people log onto EE's 4G network however, the worry is that we will begin to see a slow down on the speed people have been seeing so far.
A report by analytics firm RootMetrics this week claimed that the rate of increase of EE's 4G speeds was slowing as more and more smartphones, Wi-Fi dongles and tablets connect to the network. "We've started to see some EE slow down and we're seeing a speed up on all the other networks because they've [now] got LTE," RootMetrics CEO, Bill Moore told PC Pro. "It's a bit of a rollercoaster. It's going to ebb and flow."
Addressing this point on Wednesday Swantee said:
"We have to make sure we do not go back to an age where services and applications are buffering" and it will achieve this by "driving spectrum into the network" and adding more capacity.
One way of doing this will be to introduce the company's double speed 4G service in 20 more cities across the UK by the end of the year, brining the total to 40.
Villages
While 4G speeds in cities have typically been good, many have found that once you move outside urban areas in the UK, those speeds disappear and you revert back to 3G or even 2G connections.
EE says that 2,588 small towns and villages have now been "connected" (with one village as small as 65 people) meaning that in total 3.5 million more people have access to its super fast network and giving EE an outdoor coverage of 73%.
In December Swantee criticised the government for continuing to raise spectrum fees and clamp down on mobile charges, telling the Guardian:
"Something has to give in terms of the investment. It will be harder for me to maintain the current rollout of 4G. We will be forced to re-evaluate our 98% coverage target for the end of next year, and sparsely populated rural areas are, as we all know, at risk the most."
Video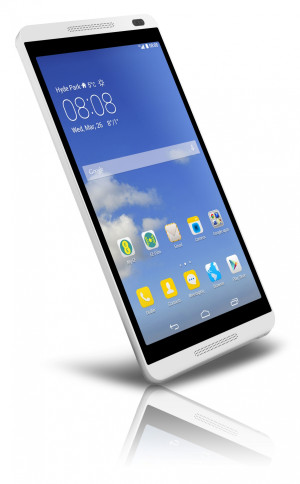 One of the big drivers of traffic on EE's network is video, with the company revealing on Wednesday that it accounted for over 50% of all traffic on its 4G network.
On Saturday last, when the FA Cup final and La Liga decider were being played at exactly the same time, the company said it saw a 15% spike in its traffic as people used their smartphones and tablets as second screens to watch a second football match.
To take advantage of this increase in video streaming, EE has launched a 4G-enabled tablet called the Eagle which the company believes is a match for Apple's iPad mini in terms of specs, while costing just £199.
The company has also launched three new Wi-Fi dongles, including one called the Buzzard which will work with your car's cigarette lighter and offer in-car Wi-Fi for all passengers in the car.
To help this the company announced that it had now achieved up to 50% 4G coverage on 50 of the UK's busiest motorways and A-roads with coverage on roads in built-up areas like the M25 and M62 at more than 80%.
In addition to the new dongles, EE has launched a range of new 4G Wi-Fi plans starting at £10 a month for 1GB of data without the need to sign up for a contract. However with video being the big driver of network traffic, it is questionable whether 1GB of data would be sufficient for most users.
In comparison, Vodafone's cheapest 4G Wi-Fi plan offers 4GB of data for £20, while O2 offer 3GB of 4G Wi-Fi for £14.17.