Senate Democrats launched a rare all-night protest on Monday (6 February) ahead of an expected vote on Betsy DeVos' confirmation as secretary of education. Democrats need to turn just one more of their Republican colleagues to block DeVos' confirmation.
"Democrats will hold the floor for the next 24 hours, until the final vote, to do everything we can to persuade just one more Republican to join us," Washington Senator Patty Murray said on the Senate floor. Murray's spokesman told The Hill: "Democrats plan to keep the floor open and there will be speeches over the night in this final push."
DeVos surpassed a crucial hurdle on Friday (3 February) in a party-line 52 to 48 vote.
A final vote is expected at 12pm EST/5pm GMT on Tuesday (7 February). If Democrats do not succeed in turning a Republican to their side, Vice-President Mike Pence would likely need to break a 50-50 tie. It would mark the first time a vice-president has broken a tie for a Cabinet nominee in history, CNN noted.
On 1 February, Republican Senators Susan Collins from Maine and Lisa Murkowski from Alaska broke with their party and publicly announced they would not vote for DeVos. Michigan Senator Debbie Stabenow told CNN's Erin Burnett on Monday that public pressure may have swayed one more Republican against DeVos' confirmation.
"We may, in fact, have an additional Republican colleague voting 'No', which would stop her tomorrow," Stabenow said. The senator noted that Democrats' united front against President Trump's education pick has "galvanised" people and prompted some Republicans to announce their intentions to vote against DeVos.
Stabenow acknowledged Democrats' disadvantaged position in the fight, CNN reported. "We know as Democrats we don't have the votes to stop these nominations by ourselves, but people - parents, teachers, administrators, community leaders across the country - have power and are weighing in."
If Democrats do succeed in swaying enough Republicans, DeVos would become only the 10th person to be rejected for a presidential cabinet position in 228 years.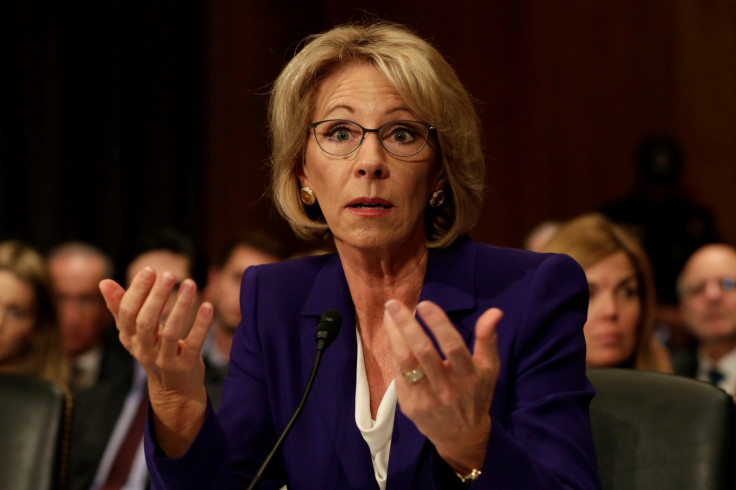 A polarising candidate
DeVos' nomination has prompted a deluge of calls to senators from their constituents. In an email to reporters, Americans for Prosperity communications director Christopher Neefus said the organisation released a video hoping Alaskans would urge Murkowski to confirm DeVos.
"A vote against Betsy DeVos would block crucial reforms at the department and keep the federal government from moving in a better direction on education policy," Americans for Prosperity President Tim Phillips said in a statement. "That's a serious loss for students and parents who deserve these improvements all across the country. These senators should stand on the side of school choice, not stand up for the broken status quo in public education."
According to the New York Times, Maryland Senator Chris Van Hollen said DeVos embraced a philosophy that abandoned poorer families. Teachers unions and other liberal groups, meanwhile, have fiercely opposed DeVos' nomination. Those groups have particularly attacked her support for charter schools and tuition vouchers that use public funds, instead of repairing public schools.