Two US Senate Republicans publicly pulled their support of President Donald Trump's nominee for education secretary, Betsy DeVos, on Wednesday (1 February).
Senators Susan Collins and Lisa Murkowski broke with party ranks to join Senate Democrats and voted against one of Trump's Cabinet picks.
"I come to the floor to announce a very difficult decision that I have made, and that is to vote against the confirmation of Betsy DeVos to be our nation's next secretary of Education," Collins said on the Senate floor. The Maine Republican cited DeVos' "lack of familiarity" with the Individuals with Disabilities Education Act as a reason for her decision.
According to The Hill, Murkowski spoke after Collins and said she too would be unable to vote for DeVos' confirmation. "I have serious concerns about a nominee to be secretary of Education ... who has been so immersed in the discussion of vouchers," the Alaska Republican said.
Murkowski said her office had been swamped with thousands of phone calls from constituents opposing DeVos' confirmation. "I do not intend to vote on final passage to support Ms DeVos to be secretary of Education," she added.
Despite the two GOP senators voicing their opposition to DeVos' confirmation, the White House said it is confident she will be approved, Reuters reported.
Senate Democrats are all expected to vote against DeVos and would need just three Republicans to vote with them to block her confirmation. If the Senate ties 50-50 in the vote, Vice President Mike Pence could step in to break the tie.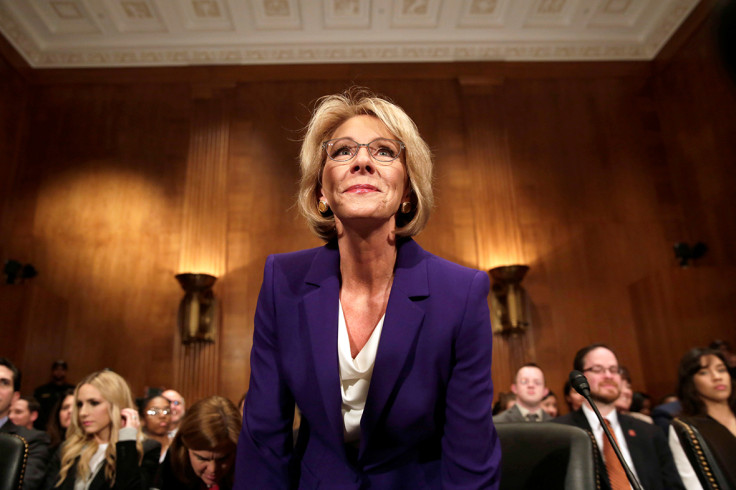 The Hill reported that if the GOP wants DeVos to be approved without the vice president, they will need to bring over Democrats from red states up for reelection on side. West Virginia Senator Joe Manchin, whose seat is considered to be vulnerable, said on Wednesday he would not vote for DeVos.
"The needs facing rural schools in West Virginia are unique and her lack of exposure to public education is very concerning for me," Manchin said in a statement.
However, if the GOP plans to use Pence's tie breaking vote in their favour, they need to maintain 50 votes in support of DeVos.
According to CNN, in order to do this, Senate Majority Leader Mitch McConnell moved up the vote on DeVos ahead of the vote on Senator Jeff Sessions for attorney general. If Sessions leaves the Senate before the DeVos vote, Republicans would only have 49 guaranteed votes.
Should DeVos not be confirmed, she would become the tenth cabinet nominee in US history to be rejected by Congress, Reuters noted.