An early morning session of the Senate on Friday (3 February 2017) has voted to move President Trump's controversial pick for secretary Betsy DeVos one step closer to confirmation.

The Michigan billionaire's nomination still hangs in the balance after two Republican senators said they would not vote for her, leaving her nomination relying on a single vote.
This step towards DeVos' nomination was passed 52 for to 48 against. The legislative body of 100 senators is held by a majority of 52 Republicans, with 46 Democrats and two independents.
No Democrats voted for DeVos. When it comes to her experience in government, and ability to avoid conflict of interests due to her extensive business holdings, "she scores very, very low," said senate minority leader Chuck Schumer in an address ahead of the vote.
DeVos, Schumer said, "does not deserve to be secretary of education". Reports have said that senators are being inundated with calls from constituents against DeVos.
"She will be an excellent education secretary, and an important one for this country," said senator Lamar Alexander (R-TN) after the vote. "We'll be swapping a national school board for a local school board," Alexander said, citing DeVos position on putting states in charge of education and dismantling the federal education system. "She has been among the forefront of leaders" when it came to publicly funded vouchers to send children to private schools, he said.
DeVos has long been an advocate of charter schools. Since 2010 she and her husband Dick DeVos, heir to fortune of marketing company Amway, have pushed state bills in Pennsylvania, Indiana and Florida. These would create school voucher schemes where students who want to be schooled at a private and religious institution are given public funding to pay for it. DeVos has especially supported vouchers for Christian schools.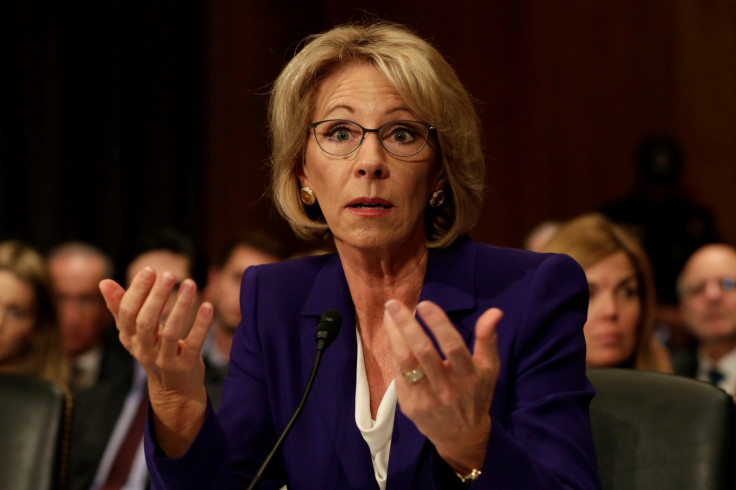 Recently she has sat on the board of a think tank that advocates abolishing mandatory schooling and that wants to see child labour laws loosened. Her mother, Elsa D Prince Broekhuizen, is currently a director there.
During her confirmation hearing before the Senate Committee for Health, Education, Labor and Pensions on 17 January, DeVos faced tough questions from Democrats. She was asked about everything from guns in schools to Trump's behaviour toward women, and to explain how schools evaluate student success. When asked whether guns belong in schools, DeVos said that they might be needed "to protect from potential grizzlies", citing a Wyoming school with a fence against bears.
When asked if she had any experience running an organisation such as the $1tn (£800bn) student loan bank administered by the Department of Education, DeVos said "I do not." With family wealth of $5.1bn DeVos she said she, nor her children, have ever taken out a student loan or know what it is like having student debt.
DeVos has a "clear lack of understanding of basic education issues," said Democratic Senator Patty Murray (D-WA) following the vote, and "no experience with public schools, except with her work to tear them down."
Correction:
An earlier version of this story said that DeVos had been confirmed by the Senate. The vote was not for full confirmation but instead a procedural vote to allow her to reach the full Senate confirmation vote.