Barcelona manager Luis Enrique is convinced that his side will bounce back from their current crisis to win the La Liga title. The Spanish boss, meanwhile, has backed out-of-favour Marc Bartra to step up in the absence of suspended Gerard Pique against Deportivo de la Coruna, despite barely giving the academy centre-back the chance to play during the current campaign.
The La Liga holders travel to Riazor on Wednesday night, after having conceded three consecutive defeats in El Clasico, Real Sociedad and Valencia. The Catalans have thus seen their La Liga leadership cut drastically in the race against Atletico Madrid and Real Madrid, with the Colchoneros being second on goal difference and Los Blancos remaining in third position and only one point behind.
Gerard Pique said, after the latest 2-1 defeat to Valencia on the weekend, that Barcelona will still win the title. But when asked if he agreed with his defender during a press conference on 19 April, ahead of the game with Deportivo, Luis Enrique responded: "Of course. I will not be here otherwise."
"I get high on adversity. I am such an a****le. Maybe it's because I'm from Gijon. You can't imagine the party we will have if we turnaround this (and win La Liga). If it doesn't work out then I will be the first to congratulate who wins the league.
Yet Pique will not be available to help his side at Riazor after he saw his 10<sup>th yellow card of the campaign against Valencia. His absence is a big blow for the Barcelona defence, as Luis Enrique had already been deprived of the services of Thomas Vermaelen and Jeremy Mathieu due to injuries. Yet, the manager is convinced that Bartra can cope with it alongside Javier Mascherano, despite the centre-back not starting a La Liga game since the victory over Eibar in October 2015.
"It's always difficult for a player not to be able to play as often as he wants, but in this case I have to say Bartra has handled it very professionally and he has remained prepared," the boss said. "I have the utmost confidence in him and he deserves this opportunity and I'm sure he'll play well, they way he knows how."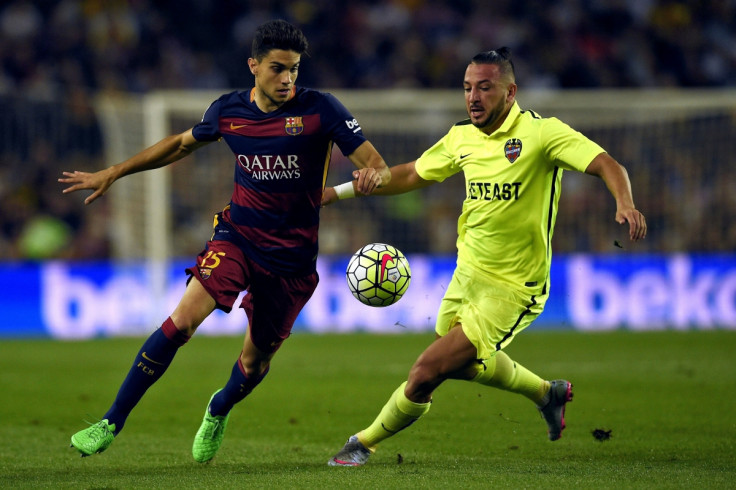 Luis Enrique also expressed his total confidence in his current squad to turnaround the situation as most of them were the same players that led him to the treble last season.
"I have nothing to reproach," he said. "Whoever wins the league will have been the best team over all 38 games. The first thing we want is to win at Depor and grow our confidence. Winning away is always difficult and even more so in our situation, but we will try to exploit weaknesses of a team that defends very well."
Luis Enrique, meanwhile, refused to apologise with journalist Victor Malo after he mocked the reporter following the defeat to Valencia.
The reporter from Diario Gol, whose surname in Spanish means 'bad', asked him whether the poor run of results is due to the physical preparation of his squad with Luis Enrique replying: "What is your surname?" "Malo," the journalist said. "Correct, next question," Luis Enrique shot back.
The Barcelona manager has been hit back by Malo's colleagues in recent days but questioned about the controversy in the press conference Luis Enrique looked unaffected by the critics.
"I didn't answer the question. I have nothing to say sorry for. I haven't lacked respect towards anybody," the boss said. "On the contrary, a lot of the media have lacked respect to me and various members of the club. Many members of the media have done that and I don't ask them to say sorry. If you don't like my style, I don't give a damn. To say it politely."