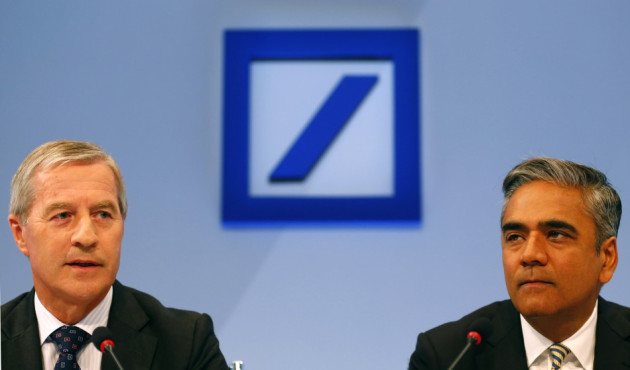 Deutsche Bank has announced layoffs and bonus cuts to senior staffs, designed to save €4.5bn (£3.6bn) a year as part of its strategy to revamp businesses and to make the bank more competent.
The German bank will also extend payment of deferred bonuses to 150 of its top bosses to five years, and set up an independent external panel to review compensation.
The ambitious plans were announced by the co-chairmen of the bank, Jürgen Fitschen and Anshu Jain that included a fundamental change in the bank's work culture.
They admitted that the bank has made grave mistakes and there is a need to be up with the changing times.
"Deutsche Bank aims to emerge as a long-term winner from the fundamental shifts taking place in the banking industry," said the two leaders.
"The medium-term economic and regulatory outlook is challenging, hence we need to significantly improve our operating performance and efficiency. It is not enough to adapt our strategy to customers' changing demands; we also have to secure our competitiveness over the long term and fulfil our responsibility to society".
"The burden of cultural change will fall disproportionately in the investment bank. It is also the area where profit sharing with investors has been the most asymmetric."
Jain admitted that the payout ratio needs to go down while emphasising employees' contribution towards it.
As with most banks, Deutsche Bank's reputation too has taken a hit following the financial crisis and allegations of unethical practices in investment banks.
The bank was among those accused of rigging the London interbank offered rate or Libor, which is used to set interest rates on financial contracts.
In July, Duetsche Bank admitted that some of its staffs were involved in the scandal.
The bank's management now plans to curb illegal activities through tougher sanctions, in a bid to restore its battered reputation.
The bank said it will strive for behavioural change by altering pay to encourage long-term sustainable performance.
"There has been a tremendous cultural question posed around the investment bank".
''We're in an industry where a small group of people can do irreparable damage. We will not stand by and let that happen".
However, some analysts are of the opinion that these reforms may prompt employees to leave the company, even though the labour market remains challenging.