A Facebook user who made racist comments about Megan Young after she won Miss World 2013 title has reportedly lost her job over the remarks.
According to Philippine Daily Inquirer, Devina DeDiva "lost her teaching job and is afraid to go out in the streets."
DeDiva sparked controversy after referring to Filpinas as maids.
"Miss Philippines is Miss World? What a joke? I did not know those maids have anything else in them Ha Ha Ha," she posted on her Facebook account. She also commented that "they are poor, smelly from cleaning toilets and uneducated."
However, DeDiva has changed her Facebook account name and deleted the original posts from the page.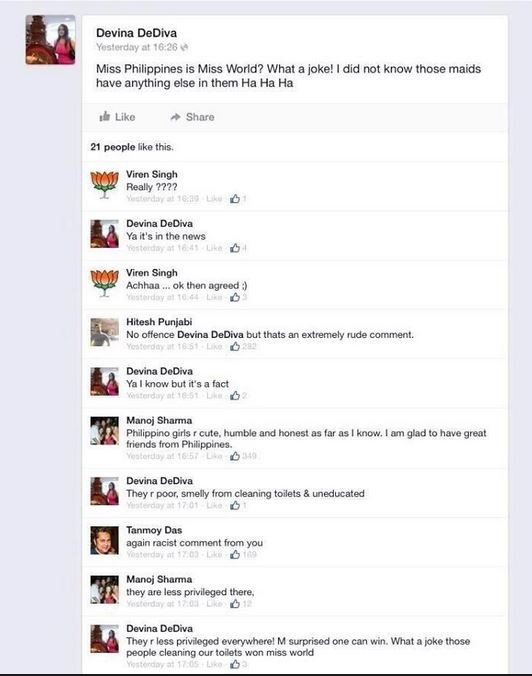 Precious Lara Quigaman, who was named Miss International 2005, has trenchantly defended Young against DeDiva's comments.
"I read her[DeDiva's] Facebook page... [Perhaps] she did that because she knew that Filipinos supported each other and ... maybe thought she'd gain followers and/or haters by attacking Megan. We should just dismiss her and not give her the fame that she craves," she told Philippine Daily Inquirer.
"We are a country of beautiful, smart and loving maids, nurses, teachers, doctors and beauty queens... No one can take that away from us."
DeDiva was previously reported as an Indian student from Manchester University in Indiana, USA, based in Singapore. However, the University claimed that they have no association with the person.
"Manchester University (Indiana, USA) has been mistakenly associated with an individual Devina DeDiva today after she made racist comments regarding the recently crowned Miss World from the Philippines" the statement on the University's page read.
"To clear up any confusion, the University has confirmed that Devina DeDiva has never been a student at Manchester University (Indiana, USA). In addition, Manchester University stands as a place of differences where the community engages in respectful dialogue cultivating individual beliefs and values.
"In our accepting community, the racist comments made by this individual would not be tolerated as respectful."
READ: Devina DeDiva 'Won't Issue Public Apology' for Racist Attack on Miss World 2013 Megan Young