Deutsche Post DHL has started a one-month-long feasibility project this week that will see small flying helicopter drones being used to deliver medication to a remote German island, with no control from a human pilot.
Depending on the weather, each day the DHL Paketkopter 2.0, an unmanned aerial vehicle (UAV), will fly a pre-programmed distance of 7.5 miles from Seehund Pharmacy in the mainland harbour town of Norddeich to Juist.
Juist is a tiny island measuring just 17km long, located with six other East Frisian Islands at the edge of the Lower Saxon Wadden Sea in the southern North Sea.
DHL launched its research project into drones in December 2013, using quadcopters to deliver medication from Bonn to a lawn behind the company's headquarters over a 1.5 mile round trip distance, guided by an operator on the ground.
It was reported at the time that DHL's drones cost €40,000 (£33,400) and flew at a maximum height of 100 metres above ground level.
Restricted flight corridor from Norddeich to Juist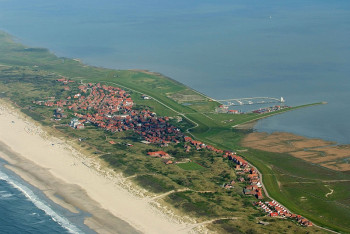 In order to ensure safety during the month-long trial, several German government agencies worked together with DHL and its partners Microdrones GmbH and RWTH Aachen University to design a specific restricted flight air corridor.
This is the first time that the drones will be going out of the operators' line of sight, and while en route, they will be monitored by a mobile control station to make sure that the drones do not collide with any other vehicle or fly over any residences.
Pilots will remain on the ground in Norddeich in contact with air-traffic controllers during the flights, and will of course be able to view the drone's surroundings from the drone's onboard camera.
Paketkopter 2.0 has been refined to withstand wind and weather conditions when flying over the North sea and can be used to carry loads of up to 1.2kg.
DHL couriers will be on standby in a specified field in Juist to retrieve the packages from the drones and then deliver them to residents on the island.
Drone flight testing permitted in remote areas
Governments around the world have been more willing to authorise drone trials over less populated areas. Google tested its delivery drones in the outback in Queensland, Australia, while Amazon tested its Prime Air drones in Canada.
In Europe, people who want to use flying drones for commercial purposes must apply for permission from their relevant civil aviation authorities, as legislation regarding the operation of drones is still being considered by the European Commission.
In the US, a six-year-long ban forbidding the commercial use of small drones in the US was overturned in March and now the Federal Aviation Administration is reluctantly trialling commercial unmanned helicopter drone flights with BP.
The FAA insists flying drones pose a serious danger to commercial airspace as well as people on the ground, and while it appeals the federal court decision, it is trying to put into legislation strict policies that aim to forbid most types of business purposes using drones, including paid photography and commercial farming observation.