RedMancunian analyses the most pressing issues for United fans after the thrilling comeback against Chelsea...
Fergie time is back!
After Daley Blind's 87<sup>thminute strike at The Hawthorns last Monday and Robin Van Persie's late tap-in which grabbed a well-earned point against Chelsea, you could be forgiven for thinking that Manchester United have finally regained the never-say-die attitude that became such a hallmark of the club under Sir Alex Ferguson.
Twice in the space of a week, they have salvaged points from losing positions, and having floundered in similar situations so often in the past 12 months, Louis van Gaal must be heartened to see his side show some of that same spirit, having struggled to break Chelsea down for most of the second half.
The Dutchman won't be completely satisfied; of course he won't be. There were too many defensive lapses on show that could have been punished, and United struggled to create much against a Chelsea side that was exceptionally well-drilled. On the flip side, his team matched the league leaders for energy, effort and application, and kept going until the death. The result wasn't perfect, but only a cold heart could fail to be warmed by a point earned in such gloriously dramatic circumstances.
Chelsea, meanwhile, have only themselves to blame. Since returning to Chelsea for his second spell, Jose Mourinho has presided over two matches at Old Trafford that has seen his side play fairly stifling football. Perhaps not parking the bus, but certainly putting it in an awkward position in front of the driveway.
Once Didier Drogba had scored, Chelsea rarely ventured forward with much purpose and seemed happy to sit on their lead. Admittedly, Thibault Courtois was excellent all afternoon, as was his back four, but Branislav Ivanovic's foolish sending off undid their good work.
United deserved something from this match; they pressed in the latter stages and sent in plenty of crosses designed to destabilise the visiting defence, but the reality is that a goal didn't appear to be forthcoming until that late free kick. Chelsea played into the hands of their hosts and paid for it, and given how dangerous they had looked and how ropey United's defence had appeared, perhaps Mourinho should question why he didn't instruct his charges to kill the game off.
Di Maria lost his form - but has RVP found his?
Before delving into criticism that might be considered unjustified, it's worth remembering that Angel Di Maria has been far and away United's best player so far this season. The Argentine also created four opportunities for his colleagues, but in truth, he appeared to struggle. Fitness seemed to play its part, but in the second half, he frequently lost the ball with ill-executed dribbles and his crossing was frequently off target.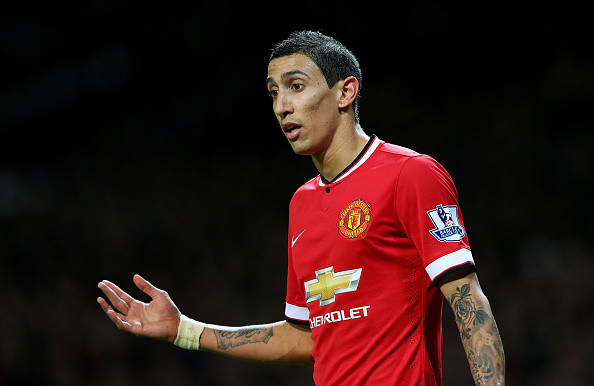 The £60m signing will be given tremendous leeway with the club and its fanbase, given his fantastic contributions and obvious ability, and rightfully so, but this slightly off-colour performance combined with the lack of a decisive contribution from Adnan Januzaj on the opposite flank (despite a good performance going forward) highlighted just how much United are relying on him to be the difference maker at present. Van Gaal must be mulling over the best way to address this dependence.
The form of Robin van Persie, meanwhile, has been a concern for several matches. Perhaps it was unfair to assume that the striker would simply waltz back to his best form under Louis van Gaal. So far, despite three goals, his season has been something of a slog, devoid of inspiration, missing chances he'd normally bury with aplomb and struggling to readjust to the Premier League's pace.
His equaliser, swept home after Courtois had saved Fellaini's header, was celebrated with the intensity of a man with far too much pent-up frustration, somewhat unsurprising given those two missed opportunities early on and the size of the occasion, and it could prove vital. Van Persie has struggled in the lone striker role in these last two games, and whilst goals of this importance are crucial to regaining some of the confidence he's lacked of late, United require more from him.
What's the Mata with Juan?
When Wayne Rooney was suspended for three games for a poorly-timed kick at Stewart Downing last month, the expectation was that Juan Mata would return to United's starting line-up and given his manager food for thought when it came to selecting a number 10. Unfortunately, the Spaniard has struggled since that sending-off.
A delicious lay-off for Di Maria in this game's opening stages aside, he was mostly ineffective against his former club, and his most meaningful contribution with Rooney gone has been setting up the same man for his goal against Everton.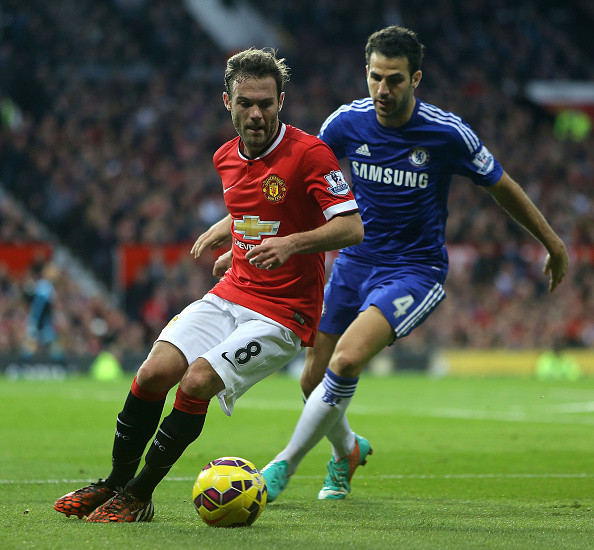 Mata is a brilliant footballer but has looked out of place in this side of late, and the truth is that he wasn't exactly missed once substituted for James Wilson late on. As such, it wouldn't be madness to suggest that Rooney should walk straight back into the side for the derby and relegate Mata to the bench in the process.
However David Moyes' other big-name signing, Marouane Fellaini, might allow himself a wry smile having played himself into contention for a place in that same starting XI. Just over a year ago, the Belgian was swept aside by City's exceptional midfield and was one of the biggest casualties of a 4-1 drubbing at the Etihad. After last Monday's exceptional strike at The Hawthorns and another strong performance in the heart of United's midfield alongside Blind, perhaps Fellaini has played his way into Van Gaal's thoughts for the short trip across Manchester.
Given the scorn he's received since his transfer to United, and the fact that he was due to leave the club for Napoli on loan this summer, the fact that Fellaini is now deserving of a start against City is nothing short of a tremendous turnaround. Van Gaal's doing something right, clearly.
The article was provided by Red Mancunian, one of the most popular Manchester United fan accounts in the world. You can follow them on Twitter here or go to www.redmancunian.com.