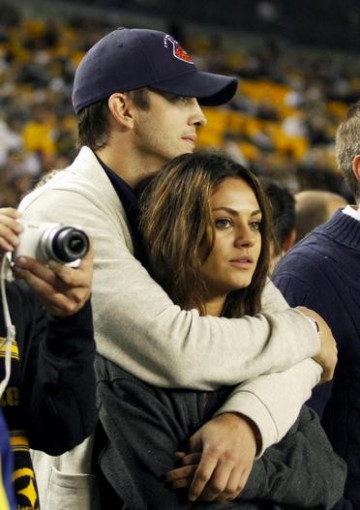 New father Ashton Kutcher has been accused of cheating on his fiancée Mila Kunis.
In an explosive new report in the Sun, make-up artist Linn Massinger alleges that she shared an 'intimate embrace' with the Hollywood actor when he first started dating the Black Swan actress.
The couple, who welcomed their daughter Wyatt Isabelle Kutcher in September, went public with their romance in July 2012 after weeks of speculation.
But according to Swedish-born Massinger, Kutcher had already stepped out on his then-girlfriend with her after they met at a bar.
She said she went back to the Two and a half Men star's £6million Los Angeles home after some heavy flirting and chatting where she spent the night.
"He just took my hand and took me upstairs," she told The Sun.
"When I was there he didn't mention Mila or anyone, I hope he thought I was a nice girl."
To corroborate her claims, Massinger is said to have provided the paper with pictures which appear to show her and Ashton, cuddling in bed together.
"Ashton was giving Linn the eye from across the bar. He waved them over to where he was sitting with his friends and introduced himself as Chris -- his real first name," a source also told US Star magazine.
"After the group went back to Ashton's home, the duo allegedly started making out."
Kutcher, who got engaged to Munis in February, has not commented on the allegations.
This is not the first time 36-year-old Jobs star has been hit with allegations of infidelity.
In 2011 he was accused of having an extra-marital fling with Sara Leal while he was married to Demi Moore. The couple divorced months later.