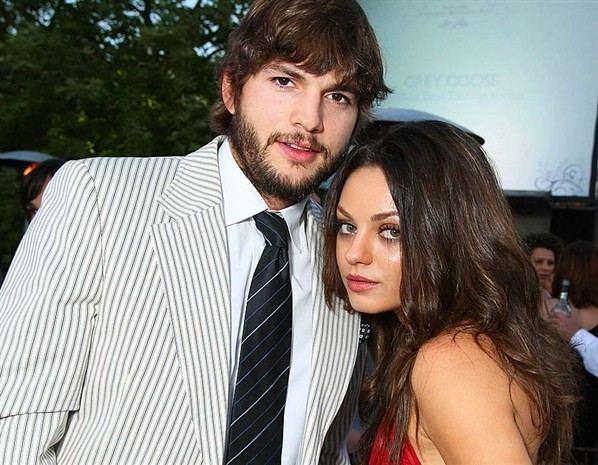 Ashton Kutcher may have only been a father for a few weeks but it is safe to say that his protective instincts have already kicked in.
The Two and Half Men star, who recently welcomed his first child with fiancée Mila Kunis, has revealed that he has reserved all of the Wyatt Isabelle Kutcher domain names.
Kutcher opened up about fatherhood during an appearance on US Talk show Conan O'Brien, saying that he would do everything in his power to prevent adult entertainment companies tarnishing his daughter's name.
"I don't want a porn site with my daughter's name! It's unacceptable to me and it's not gonna happen! We immediately went home and we reserved all the domain names," he said.
And if anybody thinks they can cash in on her name on social media, he has that department covered too.
"We got the Twitter handle, the Instagram—everything that you could possibly [have]," he added.
The couple, who have been dating since April 2012, welcomed their new addition on 30 September at Cedars-Sinai Hospital in Los Angeles.
During his candid sit-down, the Butterfly Effect star discussed the story behind his daughter's unusual moniker.
"We had another name. We had it picked out and we're like, 'All right this is the name,' he explained.
"Then we got pregnant a week, a couple weeks after we picked the name. But then when we were pregnant, the name just didn't fit the energy that we were feeling.
"We were going to a Lakers game and I've got name Tourette's. I just started listing off anything and everything that I saw. I was like, 'Sign! Truck! Wall! Door!" he added.
"She's like, 'Shut up!' I'm like, 'If you don't accept my bad ideas, you'll never accept the good ones.' Then I was like, 'All right I've got a really dumb idea. What about Wyatt?' She goes, 'That's it.' I was like, 'Really? I did it?' She was like, 'Yeah, that's it.'"
The 36-year-old star, who was previously married to Demi Moore, also said that being a first-time father was an "unbelievable" feeling.
"It's the greatest thing on earth. As soon as this child was born I immediately wanted to call my parents and just apologise because I never knew how much they loved me."