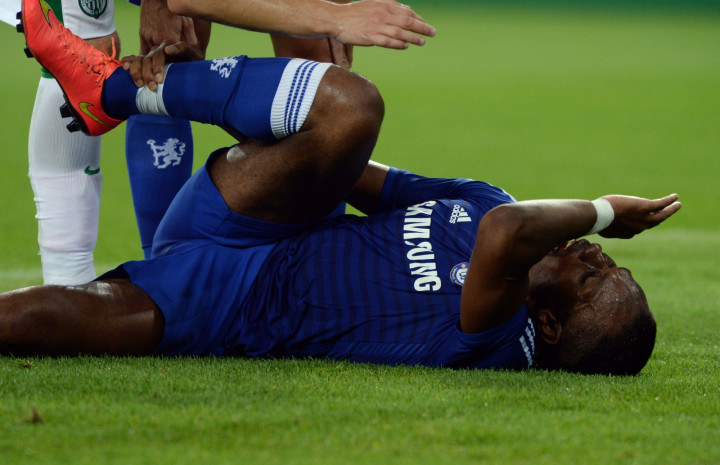 Chelsea's victory over Hungarian side Ferencvaros in their penultimate pre-season friendly was overshadowed by injury to striker Didier Drogba, just days before the start of the new Premier League season.
Drogba lasted just 28 minutes into the 2-1 win in Budapest, after limping off with what appeared to be a twisted ankle after the landing awkwardly following an aerial challenge.
The 36 year-old was replaced by Oscar for the remainder of the game, which saw goals from Ramires and Cesc Fàbregas secure the win after Zoltán Gera's early header.
Though the extent of Drogba's injury is not yet known, Chelsea face beginning the season against Burnley on 18 August with only Fernando Torres being the primary support for its new summer signing Diego Costa.
Chelsea face Real Sociedad this week in a final pre-season friendly before the season begins. The match is Jose Mourinho's last chance to prepare his players for a campaign in which the team is the title favourite.
The summer's World Cup finals have meant Chelsea's preparations for the new season have been heavily disrupted, with several players having only trained sporadically this summer, including German World Cup winner André Schürrle.
"It's been a difficult pre-season because we started with seven players," said Mourinho.
"After that, step-by-step, players were arriving after the World Cup and holidays. Finally, in this last week we've had everybody together but obviously not everyone is prepared.
"For example, Ivanovic has been training for one month, Schürrle has trained for five days, so there is a big difference between players.
"We have to play the first league match next weekend and we will be ready for that."
The home game against Sociedad on Tuesday gives Chelsea's supporters the first chance to greet a number of new players.
Goalkeeper Thibaut Courtois – who has never made a competitive appearance for the club – defender Kurt Zouma, as well as summer signings Costa, Fàbregas and Filipe Luís are all expected to be unveiled to Chelsea home crowd ahead of the final friendly on Tuesday.