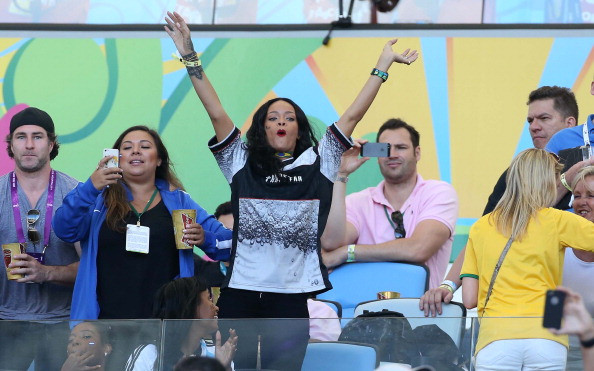 It looks like Rihanna is still on a high from this year's World Cup because the pop star now wants her very own football club.
According to the Daily Star, the Diamonds singer, who gave fans some interesting Twitter commentary throughout the tournament, wants to venture into sports.
She is reportedly keen to set up a sports academy in her native Barbados and has also been talking to her friend Chelsea's Didier Drogba about becoming a chairwoman or team owner.
''At first we thought Rihanna's desire to be involved with soccer on a business level would soon blow over," an insider told the newspaper.
''We figured she was still on a high from the World Cup. But now it's becoming clear she really is serious.
''She's talking about setting up a football academy in her native Barbados. Then her big dream is to be involved with a UK club.''
While the dream is to own a British team, she hasn't ruled out taking over a club a little closer to home.
"Britain is like a second home to her, although she's also hinted she may do something with an LA team,'' the source added.
Whether it's in the UK or across the Atlantic, The Diamonds singer is guaranteed to make headlines as a team owner if her World cup antics are anything to go by.
After Germany beat Argentina with an extra-time winner from Mario Gotz, Rihanna celebrated their victory by flashing fans at Brazil's Maracanã Stadium.