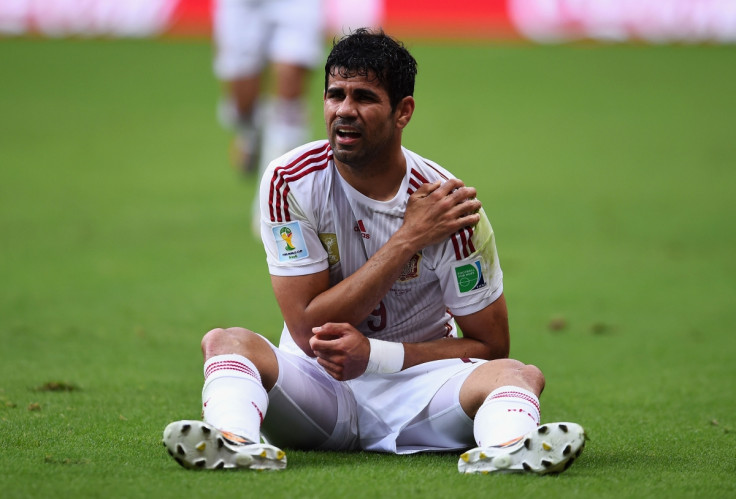 Vicente del Bosque claims Spain have not "had much luck" with Diego Costa but he but backs the Chelsea striker to turnaround the situation as he still has a promising future with the national team. The Spain manager, meanwhile, has tipped David de Gea to following the footsteps of Spanish legend Iker Casillas.
Costa has been under scrutiny in Spain amid questions over whether his aggressive style fits in the passing game of Del Bosque's side. The Chelsea star has done little to respond to the doubters after having scored just one goal in nine appearances for La Roja. Del Bosque increased the doubts about his future in the national team after dropping him for the previous games against Luxembourg and Ukraine in October because the player was suspended for the first game, while criticising Costa's behaviour during the controversial London derby against Arsenal that cost the striker a retrospectively three-game ban.
A poll in Spanish newspaper Marca then revealed that the Spanish fans would rather not see Costa in the national team anymore.
But asked during an interview with The Guardian whether it is true Costa is the wrong type of forward for Spain's style, Del Bosque said: "No − our midfield is good on the ball, with players whose touch is good, so we need forwards who create space, who move, who commit defenders, occupy them, and Diego does that.
"How can Costa be harmful for us? We have him so he can get in behind, run channels, pull wide. We've not had much luck with him but there's nothing that goes against our style. Now we're choosing between him, Morata and Paco Alcácer; in principle those are the three for the future."
The manager has usually kept Casillas as his number one during the Euro qualifiers, while using De Gea only in minor games or friendlies with other fringe players. The former Real Madrid legend has also been under scrutiny in recent years, but the managers still trust in his experience ahead of the promising De Gea following his successes both at club and international level – having won among others three Champions League, two Euro Championship and the World Cup 2010.
But asked whether De Gea can be as good as Casillas, he said: "He has the ability to emulate him, yes.
"We forget sometimes that he has spent four or five seasons as Manchester United's goalkeeper. And if you look at the other keepers they've had, that's la leche [the business]. This is the goal defended by Schmeichel, Van der Sar, Barthez: three great goalkeepers. And then along comes this kid and, bit by bit, establishes himself. But look, it's very difficult to do what Iker has done, in terms of quality and quantity."