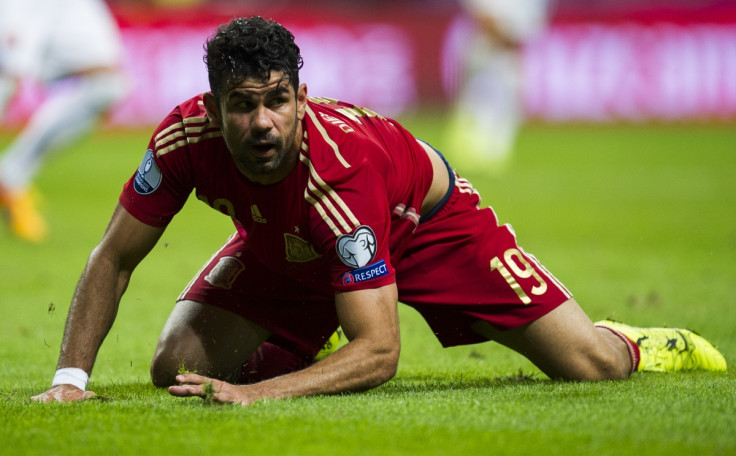 Vicente Del Bosque has said Diego Costa remains in his plans for the European Championship, despite fans urging him to drop the Chelsea striker from his 23-man squad. The former Real Madrid manager also refused to reveal if Iker Casillas or David de Gea is his current preferred first choice goalkeeper.
Costa has come under heavy scrutiny in Spain, scoring just one goal in his nine international appearances to date. Many have suggested that his aggressive playing style does not mesh with La Roja's passing-based game, while Del Bosque added fuel to the debate recently saying he was unimpressed by the striker's actions during Chelsea's ill-tempered match against Arsenal on 19 September. Costa was subsequently left out of the squad for the recent qualifiers against Luxembourg and Ukraine, despite only being suspended for the first game.
"We made the decision we considered right," Del Bosque said at the time. "But we already thought [about leaving him out of the squad] before [as he was suspended for the first match]. But his ban is not something uplifting. It was not nice. I certainly do not like what he did."
However, the manager confirmed Costa is still in his attacking plans for the future, alongside Juventus star Alvaro Morata and Valencia's Paco Alcacer.
"In principle we have three strikers [who should clearly be at the European Championship]: Diego Costa, Alvaro Morata and Paco Alcacer," he said during an interview with Punto Pelota. "Those are the ones that are in our plans at this time, but with eight months still to go it would be foolhardy of me to give a definitive answer."
His statement came in the aftermath of a poll in Marca that revealed the Spanish public want both the Chelsea striker and Alcacer axed, with Morata playing alongside Nolito and Pedro Rodriguez instead.
A second poll in Marca suggested that Spanish fans want De Gea as the first choice between the sticks, pushing out Iker Casillas following the Manchester United custodian's match-winning display against Ukraine.
Del Bosque refused to comment on the matter, saying: "I don't know why I have to pick Casillas or De Gea. Both are in contention. There is still much time to know what will happen."