Vicente Del Bosque has been urged to drop Diego Costa from the Spanish squad for this month's friendlies against Italy and Romania, following the Chelsea striker's latest brush with controversy during the FA Cup loss to Everton. A poll conducted by Marca revealed that 82% of fans wanted the Blues striker snubbed in favour of someone else, in the 23-man squad Del Bosque is set to announce on 18 March.
Costa has been under scrutiny ever since he chose to play for Spain despite being born in Brazil. The former Atletico Madrid star went to the World Cup in 2014, but was singled out as a scapegoat for his country's disappointing campaign.
The 27-year-old has yet to impress his doubters, scoring just one goal in 10 caps. Spain's vice captain Sergio Ramos questioned his commitment to the national team when he missed games due to inujry last season, while many fans feel his aggressive style does not not fit into La Roja's passing philosophy.
These doubts have risen to the surface again following Costa's latest outburst, seeing a second yellow card against Everton for confronting England midfielder Gareth Barry and moving his head towards him in what some commentators assumed was a biting motion.
Barry has since confirmed that the Chelsea striker did not bite him. However, Spanish fans are not happy with his behaviour and want him out of Del Bosque's squad as soon as possible.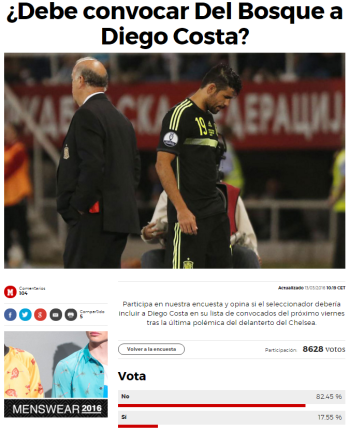 Asked whether the Chelsea striker should be in the latest Spain squad, 82% of readers responded 'no', while only 18% thought Del Bosque should overlook his aggressive outbursts.
AS's head editor,Alfredo Relaño, also encouraged Del Bosque to forget about Costa ahead of Euro 2016 in his Sunday column.
"Diego Costa lost the plot yesterday afternoon and it all kicked off. He spat at the ref's feet and went for a bite out of the neck of Everton's Gareth Barry. He was sent off, going utterly mental in the process. He's an outstanding striker but has some behavioural issues that don't seem to be diminishing with the passing of the years," Relaño wrote.
"This Friday Del Bosque will announce the latest Spain squad. An important one, given how close the European Championships are. To me it seems like a stupendous opportunity for Del Bosque not to call up Costa, whose misbehaviour has now gone beyond all tolerable limits. Del Bosque could feel at peace with his conscience: he's done far more to make Diego Costa a part of the Spanish side than the player himself has done to keep his place."
Del Bosque already left Costa out of his squad earlier this season after the FA retrospectively punished the striker with violent conduct for shoving his hand in the face of Laurent Koscielny during a controversial derby against Arsenal. Del Bosque claimed at the time the three-match ban was not an influence on his decision, but confirmed he was unimpressed with the striker's behaviour.
"We have made the decision we considered right. But we already thought [of leaving him about] before [as he couldn't play the first game]. But his ban is not something uplifting. It was not nice. I certainly do not like what he did."