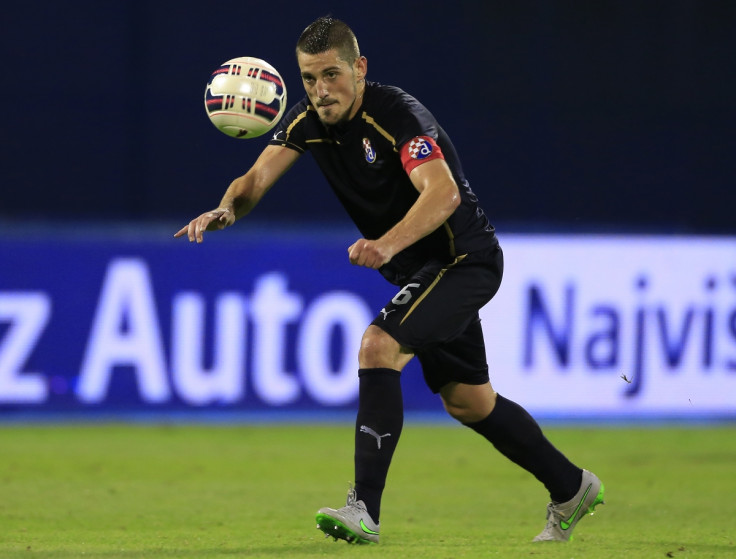 Dinamo Zagreb have confirmed that their player Arijan Ademi provided a positive doping test following the Champions League Group F victory over Arsenal last month. The Macedonian midfielder played the full 90 minutes as Zoran Mamic's side claimed a surprise 2-1 victory at Stadion Maksimir on 16 September, a first win for the club in the group stages of the competition since they beat Sturm Graz in 1999.
"Uefa started disciplinary proceedings against our player Arijan Ademi," a statement from Dinamo read on their official website. "Due to a positive doping test after the Champions league match Dinamo v Arsenal, Uefa instigated disciplinary proceedings against Ademi.
"Our players are constantly under doping control, especially during the Uefa competitions, and this is the first time we are facing a situation like this one. We are surprised because Ademi was selected for doping control six times this year and results were negative every time, as well as results of every other player who was selected for doping control by Uefa or the Croatian Anti-Doping Agency. During the disciplinary procedure neither Dinamo nor the player are allowed to make any statement. We will inform you about the progress of this situation."
While Ademi will likely face individual sanctions in the event of a positive B-sample, however, it is believed that, as it stands, the result against Arsenal is not in question given that it is only one player that may have committed a violation. The Gunners, who enjoyed a comprehensive 3-0 triumph over Manchester United in their last domestic outing, currently sit bottom of their Champions League group ahead of a tough double-header against Bayern Munich after they followed that dismal result in Zagreb by becoming the first Premier League side to be defeated by Greek champions Olympiacos on English soil in 13 attempts. Only nine teams in the history of the competition have progressed to the first knockout round having lost their opening two matches.
According to Article 12.01 and 12.02 of Uefa's anti-doping regulations: "Where more than one player of the same team is notified of a possible anti-doping rule violation in conformity with the present regulations, the Uefa administration conducts appropriate target testing of the team during the competition period.
"If more than two players from the same team are found to have committed an anti-doping rule violation during a competition period, UEFA imposes the appropriate sanction(s) in accordance with the Uefa Disciplinary Regulations and the present regulations on the team to which the players belong, in addition to the consequences imposed on the individual player(s) found to have committed the anti-doping rule violation. The sanction(s) imposed on the team may include disqualification from the competition in progress and/or exclusion from future competitions."