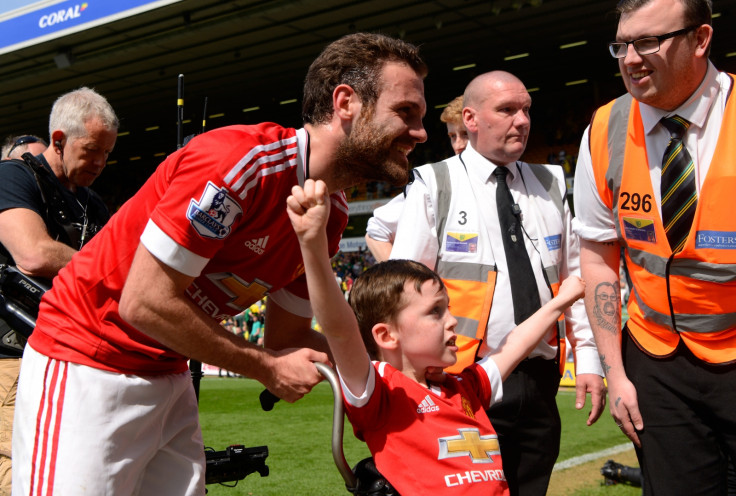 Manchester United midfielder Juan Mata left a disabled Manchester United fan "absolutely made up" after greeting him before the game against Stoke City on Sunday (2 October) and getting him a last-minute ticket for the match. The popular Spaniard previously met nine-year-old Alex Nield after United's 1-0 win over Norwich City in May, when he had his photograph taken with the youngster.
On this occasion, Mata met Alex as he got off the United team bus at Old Trafford and ran over to give him a hug. Alex's father, Jon Nield, subsequently revealed the kind gesture made his son's day, despite United drawing 1-1.
"It was just a magical moment. Alex did actually meet Juan Mata after the Norwich game last season," he told BBC Radio 5 Live. "We'd called in to Old Trafford to meet a friend and he said 'the players are due shortly to get on the coach', so we hot-footed to the Stretford End.
"Juan had immediately clocked Alex so after he'd gone through the line of people he shot over. A friend of ours, Leon [Labko], captured it all and put it on Facebook and it's just gone absolutely crazy."
Mata's United team-mates Matteo Darmian and Ander Herrera also posed for photographs with Alex, who has cerebral palsy. However, it was the youngster's encounter with Mata that left the biggest impression – especially as he subsequently secured a match ticket for the United-mad youngster.
"He even tried to sort him out a ticket because we didn't have one for Sunday's game," Jon explained after a video of the encounter attracted attention online. "We managed to get in to watch the second half – he contacted the club, Juan Mata – so I take my hat off to him.
"It's just a wonderful moment, how he comes over, gives Alex a hug, remembers his name. It was just so touching that a player who everyone sees, [who's so] high-profile, can spend the time to do that for my son, it was brilliant. [Alex] is absolutely made up. He probably thinks he's best mates with him, it's quite surreal really! He was so, so happy that he came over, you see the delight on his face as he's chatting to him."