The Walt Disney Company will cut funding to the Boy Scouts of America beginning in 2015 because of a policy that bans gay adult leaders in the organisation.
Deron Smith, a Boy Scouts spokesman, has said the organisation is reportedly "disappointed" by the decision, which will affect their ability to serve children. Disney does not provide direct funding to the Boy Scouts, but donates money to some troops in exchange for volunteer hours completed by Disney employees.
Smith said: "We believe every child deserves the opportunity to be a part of the scouting experience and we are disappointed in this decision because it will impact our ability to serve kids."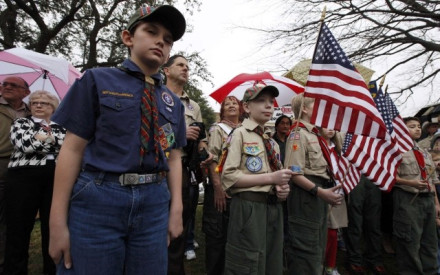 David Jefferson, chief spokesman for The Walt Disney Company, has not issued a statement in response.
Disney's decision came to light after the president of a local Boy Scout council based in Orlando, Fla., where Disney World is based, sent a memo informing local troops of the severed support.
The memo was posted on the website of Scouts for Equality, an organisation that is critical of the Boy Scouts' policy to ban adult gay troop leaders.
The president of BSA's Central Florida Council apparently confirmed the news in an email to the families of scout members, stating Disney World's Ears to You programme would not be making BSA contributions.
According to Thinkprogress, the email read: "According to [Walt Disney World], their views do not currently align with the BSA and they are choosing to discontinue this level of support."
Zach Wahls, the Scouts for Equality co-founder, whose gay marriage speech went viral in 2011, told the Huffington Post: "We're never happy to see Scouting suffer as a result of the BSA's anti-gay policy, but Disney made the right decision to withhold support until Scouting is fully inclusive."
The Boy Scouts lifted a ban on gay youth last year, which was implemented at the beginning of January 2014. However, openly homosexual adults are still barred from the organisation.
Walt Disney World launched "Gay Days" in 1991, a loosely organised event where lesbian, gay, bisexual and transgender individuals, along with their families and friends, go to the entertainment resort on a single day each year.
The event is held on the first Saturday of every month and is one of the largest gay pride events in the world. It has been previously criticised by the conservative, anti-gay group One Million Moms.