Over half of all Americans support the idea of same-sex marriage, 11 years after it first became legal in Massachusetts.
According to the Public Religion Research Institute, around 53% of the 4,509 surveyed said they supported gay marriage. The figure has risen from 32% in 2003.
The survey also revealed attitudes of religious Americans towards lesbian, gay, bisexual and transgender people. Fewer Americans who describe themselves as religious oppose gay marriages, while 31% between the ages of 18 and 33 said negative church preachings or the abuse of LGBT citizens had been a major factor in denouncing their childhood religion.
In terms of religious groups, Jews were most likely to support gay marriage, as 83% said they were in favour. Of other religions, 58% of white Roman Catholics and 56% of Hispanic Catholics said they supported same-sex marriage. In comparison, 69% of white evangelical Protestants and 59% of black protestants oppose it.
IBTimes looks at the 17 states which have legalised gay marriage so far: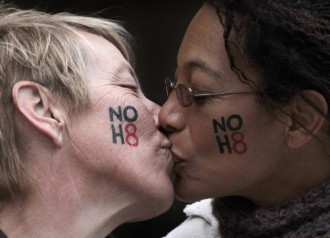 California
The state began issuing marriage licences to same-sex couples in June 2008. However, the licenses were withheld from August 2008 to June 2013, due to the passage of Proposition 8, a state constitutional amendment barring same-sex marriages.
Proposition 8 was overturned as unconstitutional following a US Supreme Court decision in Hollingsworth v. Perry.
Connecticut
Gay marriage was legalised in November 2008, but the state had enacted a civil union law in 2005 that provided same-sex couples with the same rights and responsibilities as married couples under state law. In October 2010, all existing civil unions were automatically transformed into marriages.
Delaware
Same-sex marriages have been allowed since July 2013, when Delaware became the 11th state to legalise it. Previously, civil unions had been available since 2012 after Governor Markell passed legislation recognising the "rights, benefits, protections, and responsibilities" of same-sex couples.
District of Columbia
Same-sex marriage became legal in December 2009 when mayor Adrian Fenty approved a bill passed by the Council of the District of Columbia. The state also recognises domestic partnerships.
Hawaii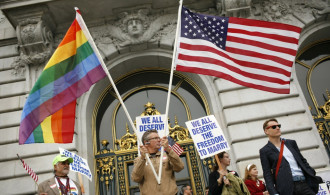 Gay marriage became legal in December 2013, when Governor Neil Abercrombie passed the Hawaii Marriage Equality Act, which is also known as the Hawaii Senate Bill 1. Civil unions and reciprocal beneficiary relationships are also recognised. A July 2013 study revealed legalising gay marriage could increase tourist spending by $217 million over three years.
Illinois
Gay marriage was signed into law in October 2013 and will take effect from June 2014.
Iowa
Same-sex weddings became legal in April 2009. In 2005, six same-sex couples who were denied marriage licences filed a lawsuit in Polk County, and the court ruled in their favour two years later.
Maine
The state legalised gay marriage after it was approved by voters with a majority of 53% in favour. It was written into law in December 2012.
Maryland
Along with Maine, same-sex marriage was legalised in Maryland in January 2013, after Governor Martin O'Malley began a campaign in support of the change. Around 52% of voters approved a statewide referendum held in November 2012.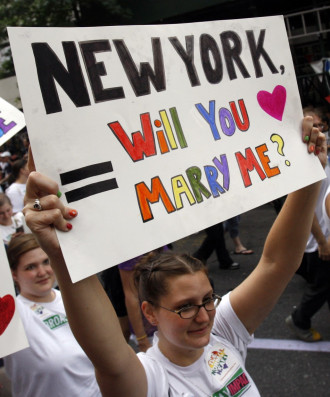 Massachusetts
In May 2004, same-sex couples were allowed to legally wed as a result of the Massachusetts Supreme Judicial Court ruling in Goodridge v. Department of Public Health. The court declared it unconstitutional to allow only opposite-sex couples to marry.
Minnesota
After 52.6% of state voters rejected a constitutional amendment to ban same-sex marriage in November 2012, the Minnesota Legislature passed a same-sex marriage bill in May 2013.
New Hampshire
Gay marriage became legal in the state in January 2010, replacing civil unions. One year later, all civil unions within New Hampshire became marriages unless dissolved or annulled.
New Jersey
In September 2013, a Superior Court judge ruled that as a result of the US Supreme Court's June 2013 decision in United States v. Windsor, New Jersey's constitution required the state to recognise same-sex marriages.
New Mexico
Same-sex marriage became legal in December 2013. Previously, same-sex couples could only obtain marriage licences in certain counties of the state.
New York
It became legal in July 2011 as a result of the Marriage Equality Bill. The legislation allows religious organisations to decline to officiate same-sex wedding ceremonies.
Rhode Island
Same-sex marriage became legal in August 2013. An independent poll conducted by Brown University in May 2009 revealed 60% of Rhode Island citizens supported gay marriage.
Vermont
The state was the first to introduce civil unions in July 2000. Vermont was also the first state to legalise same-sex marriage by enacting a statute, without being required to do so by a court decision.
Washington
In February 2012, Governor Christine Gregoire signed a same-sex marriage bill and the first ceremonies took place in December that year.