Diwali 2014: Top Quotes and Messages to Share with Family and Friends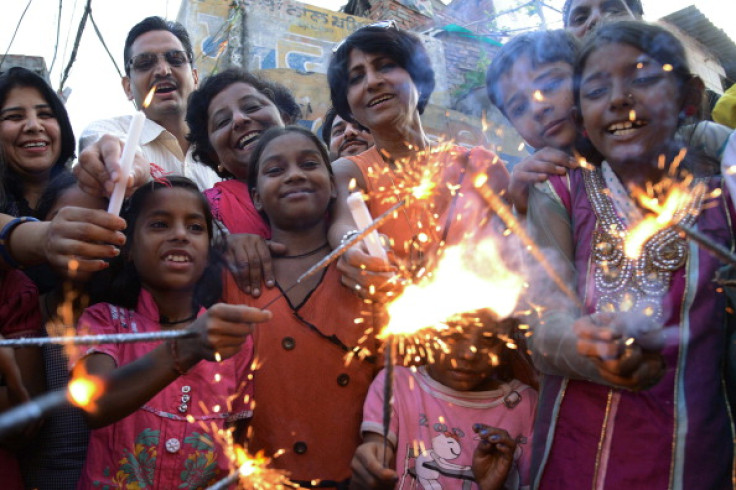 Diwali - or Deepavali - is an important Hindu festival in India and is known as the festival of lights.
The five-day festival starts on the 13<sup>th lunar day of Krishna paksha (dark fortnight) of the Hindu calendar month, Ashwin and this year Diwali falls on Thursday 23 October.
During Diwali, Indians offer prayers to Goddess Lakshmi (the deity of wealth and riches), asking for her blessings and a prosperous year ahead. They visit the homes of their friends and relatives, share sweets and burst crackers.
Greeting loved ones is an important part of the festival.
Top Quotes and Messages to Share with Family and Friends to Celebrate Diwali:
As you celebrate this holy occasion, the most loving thoughts and wishes are for you. May the beauty of Diwali fill your world and your heart and may the love that is always yours bring you endless joy. Have A Wonderful Diwali and New Year!
Today's the festival of lights all over,
A joyful day for minds and hearts and souls,
Laughter and smiles for many days,
Let there be triumph in every way! Happy Diwali, with lots of love!
On Diwali, wishes for every joy and prosperity. Here's hoping that the beauty of this festival of lights bring a world of joy, happiness and contentment to you to last the whole year through. Happy Diwali.
May you have all the joy your heart can hold, all the smiles a day can bring, all the blessings a life can unfold, May you get the world's best in everything. Wishing you happy Diwali 2014.
With the gleam of diyas and the echo of the chants, may happiness and contentment fill your life. Wishing you and your family a very happy and prosperous Diwali!
Let this Diwali burn all your bad times and enter you in good times. Wishing you fun, frolic and endless celebration!! Happy Diwali to you!
This Diwali may you be blessed with good fortune, wealth, prosperity, and happiness. Happy Diwali 2014!
May the warmth and splendour that are a part of this auspicious occasion fill your life with happiness and bright cheer, and bring to you joy and prosperity for the whole year.
Hope this festival of lights brings you every joy and happiness. May the lamps of joy illuminate your life and fill your days with the bright sparkles of peace and goodwill. Have a joyous Diwali and new year!
Gulab jamuns, rasgullas, laddus, crackers and diyas, all are back here to announce the arrival of Diwali! So get ready to celebrate the festival of lights. Happy Diwali 2014!
© Copyright IBTimes 2023. All rights reserved.