Does John Cena want to have children? Watch Nikki Bella reveal major wedding secrets
The Cenation Leader proposed marriage to the former Divas champion at WrestleMania 33 on 2 April.
Has John Cena changed his mind about not becoming a father?The 16-time WWE champion's fiancée Nikki Bella has revealed that Cena does not want to have children.
The former Divas champion, in an interview with E! News, said that the Cenation Leader told her a long time back that she should not hope of becoming a mother if he does marry her.
She said, "John had mentioned this a long time ago when he wanted to get married, he said, 'I just don't want you to ever think that if I want to marry you and I marry you that means that I want to be a father.'"
Bella added, "And I told him, 'I 100 percent agree. I know that no matter what, you don't want to be a dad.'"
Bella said she doesn't "hope" of having children, but "pray about it" happening someday in the future. She also added that she is okay if Cena remains firm on his decision to not have children.
"So I don't even think about that and now getting married I don't even have hopes of a kid. If John all of a sudden one day wanted a kid? Because he's like, 'Hey, let's do it.' Well, I'm totally game and I think my ovaries will be good for a long time."
Bella made the revelation after Cena proposed marriage to her after their fight with The Miz and Maryse at the WrestleMania 33, which took place at the Camping World Stadium in Orlando, Florida on 2 April.
You can watch Bella reveal major marriage secrets on E! News - click here to watch - at 7 and 11 p.m.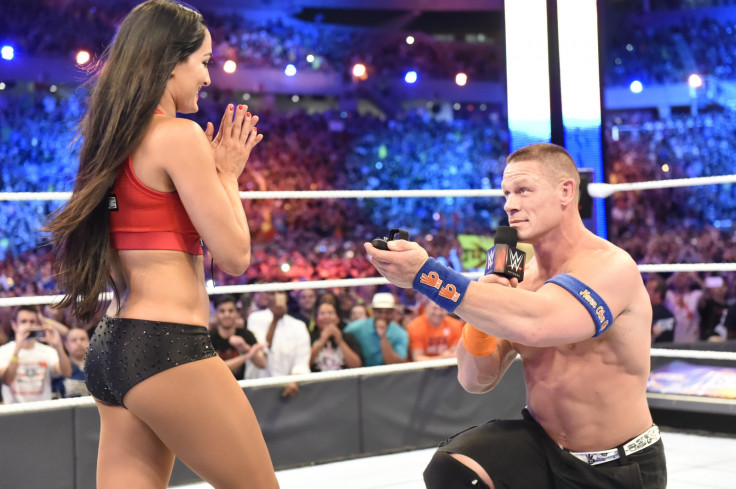 © Copyright IBTimes 2023. All rights reserved.