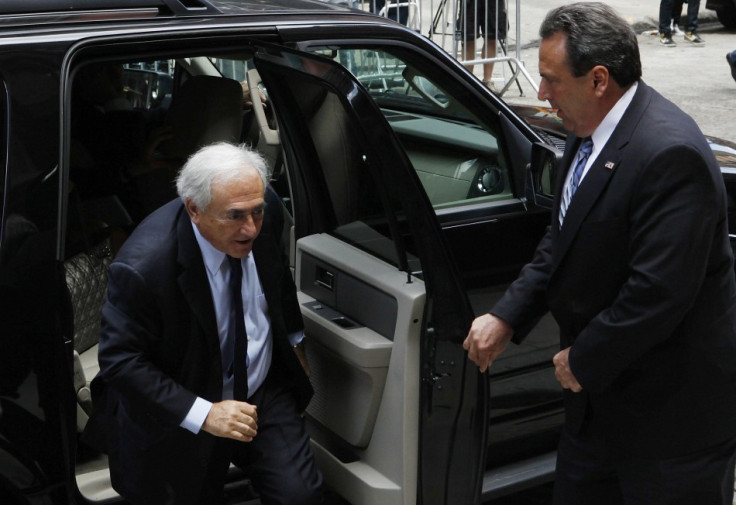 A photograph purportedly showing Dominique Strauss-Kahn with a call girl could help prosecutors who accuse him of involvement in a prostitution ring, it was reported.
According to the prosecutors, the picture is said to feature Strauss-Kahn posing in his office with a brunette call girl known as Jade, ANI reported.
Jade, is part of a group of women who claimed they had sex with Strauss-Kahn on several occasions.
The former prostitute told the daily Nord-Eclair she had met the politician on three occasions in Paris, Belgium and Washington.
She claimed she had sex with DSK, the former boss of the International Monetary Fund, in Washington at the W hotel and visited his IMF offices the following day.
Nord-Éclair said that Jade showed them a picture of her and Strauss-Kahn posing in his IMF office.
The woman added she was paid in cash by a man called David Rouquet when she returned in France, the report added.
Preliminary charges
Preliminary charges were laid against Strauss-Kahn on 26 March of "aggravated procurement in an organised gang".
The married 62-year-old engaged in "libertine" acts, his defence team said, but did nothing legally wrong. He was freed on €100,000 (£84,000) bail.
Under French law, preliminary charges mean authorities have reason to believe a crime was committed but allow more time for investigation.
Using prostitutes is not illegal in France but prosecutors suspect Strauss-Kahn was aware that the parties and call girls were paid for by other participants misusing company funds.
His defence team said he acknowledged that he attended orgies.
"Mr Strauss-Kahn is finding himself, in large part because of his fame, thrown to the butchers," defence lawyer Richard Malka said.
"Colossal police and judicial means were deployed to crack and dissect his private life to an infinite degre, with the only goal being to invent and then castigate what can be considered a crime of lust."
The lawyer added that it was inappropriate to use "simple libertine activity" to accuse his client of procuring prostitutes or involvement in organised crime.
New Civil Case in New York?
The latest scandal comes in the wake of Nafissatou Diallo, a hotel maid working in New York, accusing Strauss-Kahn of attempted rape in May 2011.
He was arrested but the criminal case was dropped after the prosecutor voiced doubts about her credibility.
Diallo, 33, has launched a civil case against him. It is scheduled for 29 March in New York but neither Diallo nor Strauss-Kahn is expected to attend.
His lawyers are expected to argue the case should be thrown out because his former job at the IMF gave him immunity from civil cases.
Dominique Strauss-Kahn resigned as head of the IMF a few days after he was arrested over the Diallo accusations surfacing.